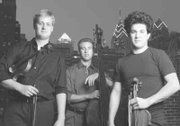 The Lower Valley Community Concert Series continues celebrating its 60th year in the community with the second concert of the 2006-07 season on Thursday, Jan. 11, 2007.
The second concert starts at 7:30 p.m. in the Sunnyside High School auditorium. Doors open at 7 p.m.
The featured performer will be "Time for Three", a string trio. Members of the group are violinists Zachary DePue and Nicolas Kendall, with double bassist Ranaan Meyer.
The trio combines a love of bluegrass with jazz and improvisation, and aims to entertain audiences with a non-traditional blend of styles.
The 2006-07 series continues with acrobatic entertainment from "The Great China Acrobats" on Feb. 25, 2007. The group features more than 20 acrobats.
The fourth and final concert of the 2006-07 season will feature "The Newstead Trio," a chamber music ensemble, on April 9, 2007.
Concert series organizers have scheduled something for all musical tastes in the current series. Season tickets are available at the door. Adult season tickets are $40, students $15 and a family plan is available for $85.
The price for a single concert is $20.
Memberships are also available at the 6th Street Gift Shop, 713 Sixth Street, Prosser.
For more information, call 509-786-3088, 509-839-5222 or 509-882-1668.