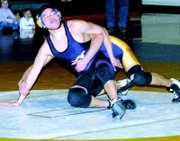 MABTON - Opening competition in the 1A SCAC, the Mabton Vikings took advantage of four forfeits and three pins to beat visiting Goldendale 48-30 Thursday night.
The Vikings jumped to a 15-0 lead after two forfeits in the 125- and 130-lb. divisions gave them 12 points and then Mabton's Andy Torres beat Caleb Ferch 7-4 in the 135-lb. weight class for three more points.
Then, Goldendale racked up 18 unanswered points when Tony Vargas (140 lbs.) was pinned by Goldendale's Aaron Ferch in 1:56. Mabton had to forfeit its 145-lb. match and then at 152-lbs., Mabton's Vicente Tovar was pinned by Arturo Sauceda in 4:28.
The teams then see-sawed a bit. Mabton's Angelo Salinas (160 lbs.) pinned Levi Scartozzi in 5:54.
"He was ahead 12-3 when he got the pin with six seconds left in the match," Mabton Coach John Kilian said. "It was very nice. We were down and we needed some team points."
The pin gave Mabton a 21-18 lead until Adrian Magana (171 lbs.) was pinned by Goldendale's Jared Witt in 3:29. That gave the lead back to Goldendale at 24-21.
The Vikings then won the next four matches to take the lead for good.
It started with Damien Marquez (189 lbs.), when he pinned Jonathan Monroe in 3:28 to give Mabton a 27-24 lead.
"Damien was ahead 7-2 when he got the pin," Kilian said.
Next came undefeated Robert Marquez at 10-0. Marquez (215 lbs.) pinned Kyle Ross in 59 seconds.
"He disposed of him fairly quickly," Kilian said of the quick work Marquez made of Ross.
Heavyweight Eli Perez (285 lbs.) then increased Mabton's lead to 36-24 when he scored a 9-2 decision over Goldendale's Vance Schafer.
"Our top three weights have been coming through for us," Kilian said. "They've been doing well all season."
Mabton's Carlos Mendez (103 lbs.) and Luis Aviles (119 lbs.) each received forfeits and 112-pounder Juan Solis was pinned by Goldendale's Nick Sauceda in 2:57 to account for the rest of the scoring.
"We knew it was going to be a tough match-up," Kilian added. "They (Goldendale) had some forfeits that hurt them. It's very nice to get the win. Goldendale is one of the teams we have to beat to win the league title."
The Vikings (1-0, 3-1) will travel today to participate in the Warden Tournament at 4 p.m.
.