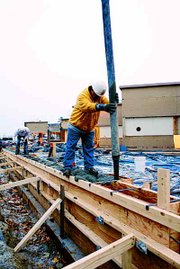 One of the building blocks in expanding Sunnyside Community Hospital's emergency department came this past Thursday when concrete footings were poured for the foundation.
The project will nearly double the size of the emergency department to 7,000 square feet.
Quintus Jones, a supervisor on the project for Mountain States Construction, said this is the third project his company has developed for the hospital. The most recent was in 1998 for a family birthing area.
Jones said the concrete could be poured, even in cold temperatures, because of a heating process that occurs after the substance is mixed and poured. The hospital said in a press release that 116 tons of concrete were poured last Thursday.
The construction project is scheduled to be finished by Fall 2007. When completed, the expanded area will house emergency care, as well as an urgent care center.
Total costs for the project are $3 million, according to Tom Lathen, community relations director for the hospital. He said that, to date, the Sunnyside Community Hospital Foundation has raised $2.1 million for the project and is working to raise the remaining $900,000.
.