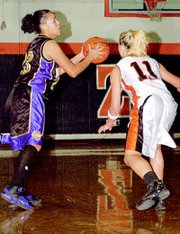 ZILLAH - Returning three starters off last year's third place team at the 1A State tournament, the Zillah Leopards have taken right up where they left off last season.
The Leopards' most recent victim was the Mabton High School girls basketball team, which despite playing well for the first three quarters dropped a lopsided 61-32 decision to Zillah last Friday night.
"We played 24 minutes of good basketball," said Mabton Coach Mike Roettger. "But for eight minutes we took a break, there in the fourth quarter when we got outscored 22 to 6.
"Zillah trapped and pressed us the whole game. At the end we got mentally drained," Roettger said.
It appeared as though the Leopards were going to blow Mabton out of the Zillah gym, opening the 'A' league contest with a 10-0 run.
"But we got right back in it," Roettger said, explaining that his Lady Vikes followed with a 9-0 run of their own to close out the opening quarter trailing just 12-9. Freshman Monica Tellez, who pulled down a team high nine rebounds in the game even after fouling out with seven and a half minutes to go, hit all four of her points in that 9-0 stretch.
Zillah edged further ahead in the second quarter, taking a 25-18 lead into halftime, and stepped up its advantage to 39-26 through the third quarter. Still, said Roettger, his girls were in the game heading into the final period.
"The thing about Zillah," he said, "is that they have lots of depth. They're very balanced."
Coupled with the fact Mabton was playing short-handed, with its number two scorer-Trishi Williams-missing Friday night, the Lady Vikes didn't have enough firepower left at the end to make a serious run at the Leopards.
Tiffany Vasike stepped up for Zillah, however, connecting for eight of her team high 14 points in the final quarter to help propel her team to a 22-6 scoring advantage in the fourth period.
The only other player in double figures for Zillah was Bailey Ziegler, who dropped in 11 points, six of them coming on a pair of shots from beyond the 3-point arc.
The lone Lady Vike to hit double digits in the game was sophomore guard Ana Jimenez. She canned a game high 19 points, which included drilling two shots from back of the 3-point line.
Mabton (1-1, 3-3) is scheduled to play in a holiday tournament this Wednesday and Thursday in Seattle. The Lady