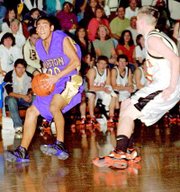 ZILLAH - Looking to stay undefeated in league play, the Mabton Vikings basketball team ran into a snag in the form of the Zillah Leopards, losing on the road 57-47 last Friday.
"It was a pretty intense game all around," Mabton Coach Brock Ledgerwood said. "We had a few moments of mental lapses where we didn't play our game."
Mabton started in a hole in the first quarter by spotting the Leopards a seven-point lead.
"We played pretty well in the first quarter, they just had a couple of more baskets," Ledgerwood said. "If we would have taken advantage of our inside opportunities it would have been a different game."
In the second quarter Mabton's Eric Tellez got into some foul trouble and rode the bench for most of the period.
"We did a good job of battling back and we won the second quarter without Tellez," Ledgerwood said.
At halftime the Vikings only trailed the Leopards 25-21.
Mabton flubbed the start of the third quarter, letting Zillah open the second half by scoring five straight points before settling down. After a quick timeout Mabton started scoring some points and outscored Zillah 15-13 to close the gap to two points.
Zillah came out energized in the fourth quarter and hit some quick shots. Halfway through the final quarter the Leopards held a 15-point lead over Mabton.
That's when the Vikings put on their press and soon they were able to cut the lead to seven points, but then time ran out and Zillah hit its free throws down the stretch to pull out the win.
"We were 7-for-16 from the free-throw line and we have to knock a few more of those down," Ledgerwood admitted.
Tellez led the Vikings with 16 points and seven rebounds. Tyler Herrera and Juventino Morfin each finished with eight points for Mabton.
Chris Gasseling accounted for 21 of Zillah's points. He was followed by Zack Sybouts with 18 points and Jake Friedrich dropped in 17 points.
The Vikings (1-1, 3-4) will compete in a Christmas tournament this weekend, Dec. 29-30, in Seattle. They will play Seattle Christian on Friday and then either Western Mennonite or Seaside on Saturday.
.