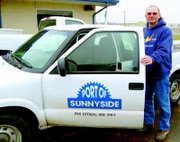 After 12 years as a cheese maker, Stan Plooster of Sunnyside is experiencing a career change as the Port of Sunnyside's new wastewater technician.
Plooster and his family moved to Sunnyside in 1985 to open a dairy they called "Took-a-Look Farms." He says his family no longer owns the dairy, although the land is still being used for that purpose by a different dairy.
Before taking the Port of Sunnyside job, Plooster, 51, worked for just over five years at the Tillamook Cheese plant in Boardman, Ore. "I drove 85 miles each way between Sunnyside and Boardman everyday," Plooster says.
A shorter drive is one reason why he pursued the Port's wastewater technician position.
"I wanted to work in Sunnyside," says Plooster. "It's a quality job in Sunnyside."
Another reason for changing jobs comes down to people.
"It boils down to the people you work with," Plooster notes. "These are nice people to work for."
Plooster's first day on the job was Dec. 8, and as wastewater technician his responsibilities include stopping at each of the Port's customers to gather a quality sample of their wastewater output.
He also helps troubleshoot any equipment difficulties.
Plooster says he anticipates his responsibilities will only grow when the busy irrigation season arrives in the spring.
"I was fortunate to be able to start work here during the slow time," he smiled.
One of Plooster's previous jobs-a cheese maker with the Sunnyside Darigold plant from 1994 to 2001-should serve him well at his new job.
Since Darigold is one of the Port's wastewater clients, Plooster says he "understands what goes on in the Darigold plant and how that affects what happens at the Port (wastewater) facility."
Noting his experience in working for a Port client, and now as an employee of the Port, Plooster adds, "I've been on both sides of the fence."
Plooster has only been on the job just a little over two weeks, but he already knows he's going to like working for the Port of Sunnyside.
"This is probably one of the best jobs I've ever had," he observed as he surveyed the port's wastewater facility on Midvale Road that is his new workplace. "This is top-notch."
.