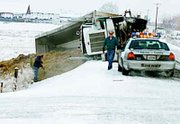 Saturday morning, residents of the Valley awoke to a fresh coat of snow and very slick roads. An E.M. Trucking driver, Anthony Moreno, 53, of Pasco fell victim to the road conditions.
Moreno was traveling southbound on Waneta Road near Sunnyside the morning of Saturday, Dec. 23, at approximately 8:3 a.m. when he attempted to maneuver a wide left-hand turn onto Tear Road, heading eastbound. The trailer, carrying hay silage, slid off onto Waneta Road, taking with it the tractor Moreno was driving. The tractor and trailer turned onto its side.
According to Yakima County Sherriff's Deputy Bill Splawn, Moreno was not seriously injured and was able to walk away from the accident. Splawn said the accident kept deputies on-site for more than four hours and traffic on Waneta Road was impeded for approximately two hours.