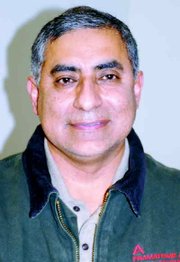 Fred Gomez of Sunnyside was just keeping a buddy company when he ended up applying for a job at Areva NP in Richland.
"They asked me if I wanted an application and I said sure," he recalled.
Thirty years later, Gomez, 50, is still there and has risen from working in a cleaning room to a management position in overseeing 25 to 30 employees.
Areva NP manufactures fuel for energy-producing nuclear reactors. The company's clientele ranges from around the U.S. to around the world.
For Gomez, it was a learning experience from the get-go.
"I didn't know anything about nuclear reactors," Gomez smiled as he recalled his start at Areva NP.
He's learned plenty since then, including working with and meeting the needs of the machine shop employees who report to him.
And that, he says, is the most challenging part of his job.
He described how every employee has a different temperament and how he needs to adapt his approach in working with each one. "There are different personalities that you have to work with," he says.
Gomez has also learned something about working hard in gradually advancing at the Richland plant.
"When people ask me about my career path the thing I tell them is that if they choose to follow my path then they need to volunteer for things where you will be exposed to upper management," he explains.
In Gomez's case, he said a turning point came when he was selected to represent shop employees during a management meeting in Florida.
"They flew me to Miami," he recalled. "The vice president and president of the company were there."
Gomez said he had to give a five-minute speech at the big conference meeting, and that has in turn helped his career at Areva NP.
Gomez says one of the things he likes about working for the company is that about "every five years" his job description changes.
He's also appreciative of a big change that has helped his daily commute between Sunnyside and the Tri-Cities.
"When they put in I-82 that made things a lot easier," he laughed.
.