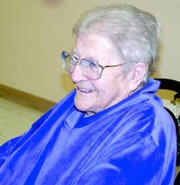 GRANDVIEW - Yvonne Herring of Grandview got a jump on celebrating her 100th birthday with family and friends this past Tuesday.
According to her daughter, Gladys Silbernagel, Herring will officially turn 100 this Friday, Dec. 29. But because many of Herring's loved ones were in town for the holidays, the family celebrated this past Tuesday at Grandview Healthcare Center.
When Herring was two-and-a-half years old, her family immigrated from Alberta, Canada to the United States. On their way to California, they stopped in Moxee and decided to make their home there operating a hop ranch. "She worked in the fields until she was in her 20's," said Silbernagel.
Herring's husband was a resident of Canada as well. But after a visit to Moxee and meeting Herring at a dance, he decided to stay in the area and the couple made their home in Yakima.
&nbsp