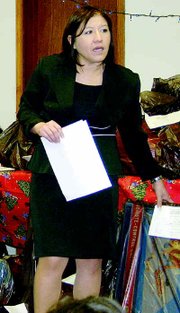 GRANGER - For several years Bertha Beltran worked as a dispatcher, corrections and reserve officer for the Grandview Police Department. Now, she's found herself in a very different role.
Beltran left Grandview at the end of October, taking on the role of Eastern Washington Site Supervisor for Consejo Counseling Services, a non-profit organization aimed at helping victims of crime.
Any type of crime qualifies a person for Consejo's assistance, whether it be sexual abuse, human trafficking or fraud.
It's quite a change for Beltran. "In law enforcement, you see quite a few things that a lot of people need help with," she said. "People don't get served to the maximum that I think they should.
"When I worked dispatch, I wasn't able to ask (a victim) how do you feel, how did this make you feel, how are your kids. Instead I was asking, 'Are there weapons in the house?'"
Having this job, she says, has absolutely changed her mode of thinking.
That doesn't mean, though, that Beltran can't serve as a bridge between law enforcement and social services. In fact, that's her goal: to strengthen ties, thereby strengthening the system.
Beltran feels strongly that her law enforcement background is a boon to the social services aspect of her job.
She oversees advocates and counselors in the Yakima County office (which is in Granger), in Kennewick and in Walla Walla.
Though she's only been in the position for about a month and a half, Beltran is already planning ways to strengthen the system.
"I want my advocates to go on ride-alongs (with police). I want them to have that connection. If we work together, I really see cases not being dropped that way."
Beltran is also teaching her advocates how to assist law enforcement by filing paperwork, such as that necessary for crime victim compensation.
Beltran is also planning for more education and outreach in the coming year. Not only does she want to help those currently seeking Consejo services, she wants an outreach program that teaches teens what a healthy relationship is, what it looks like. In a way, it's a preventative measure, one that she believes strongly in.
"The younger you start, the better. Adolescence is a great target age."
She'd like to see a focus on parenting outreach as well. Beltran said that oftentimes, in a domestic violence situation, when one parent is removed from the home, the kids need help understanding the shift of control to the other parent.
Beltran said she enjoyed working in Grandview, in dispatch, corrections and as a reserve officer. But she's got tremendous appreciation for her new job as well.
"I really am glad that I've got the job I've got right now. I wanted something really challenging and I think I've gotten it."