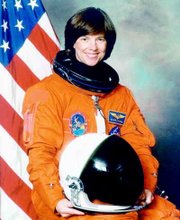 SEATTLE - The Washington Aerospace Scholars Program is currently accepting applications from high school juniors across Washington state.
The program wants to increase the number of Washington state students who choose to major in science, mathematics and engineering.
According to Dr. Bonnie J. Dunbar, CEO of The Museum of Fight and an Outlook native and Sunnyside High School graduate, the lack of qualified graduates in these fields is of concern because it impacts the creativity, productivity and economic well being of the nation.
She commented on the goals of Washington Aerospace Scholars.
"Because Washington and the Northwest are central to so many high technology businesses and educational centers, it is hoped that this program will help to provide a solution to a much larger national imperative," she said. "This program affords students the opportunity to learn more about these fields and to equip themselves for the future."
Washington Aerospace Scholars is a free program which employs a NASA designed curriculum.
From January to May all participating students engage in web-based lessons and activities. Select students will be chosen for a week-long summer residency hosted by the Museum of Flight.
To ensure representation from across the state, State Senators and Representatives from every legislative district will help to select these students. These sponsored students will travel to Seattle for a week-long residency in June or July.
During this six-day experience, students are guided by mentors and educators as they design a human mission to Mars.
Summer residency participants will also tour facilities in related fields such as Boeing and the University of Washington.
Washington Aerospace Scholars allows students to discover the educational and career opportunities available to them, especially if they have an aptitude in math or science.
Because the program has several partners there is no cost for the participation in the program. All expenses, including travel, are provided to the selected students.
Applications are available at www.museumofflight.org/washingtonaerospacescholars or by phoning 206-764-5866.
Applicants must be high school juniors, at least 16 years of age, Washington residents and U.S. citizens. Application deadline is Friday, Jan. 12, 2007.
More like this story