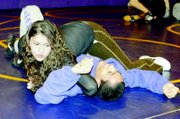 MABTON - For some it's climbing Mt. Everest. For others it could be skydiving or maybe a severe plunge off a cliff on a bungee cord.
Lots of people tackle fear in all sorts of ways but for Mabton High School sophomore Inez Gutierrez, it's wrestling.
"You think of wrestling and it's really scary," the young female grappler explained. "I figured if I do something people think is hard and I can get through it, I can do anything."
So started Gutierrez's journey to becoming Mabton's first ever female wrestler.
Gutierrez was thinking about playing on the basketball team but said she wanted something really challenging and wrestling fit that perfectly. She's not new to the world of wrestling. Growing up with five brothers and three sisters, she said she has wrestled a lot with her siblings.
The straight A student wasn't even sure if she could join the wrestling team.
"Once I get something in my head I have to go with it," she said.
So she went up to Mabton's wrestling coach, John Kilian, and told him her plans last school year.
His reaction?
"He said that would be great," she said. "He said they needed a girl on the team."
She takes weight training classes and is fitting in nicely. During the first practice this year she was really nervous, she said, but she was there.
"They probably thought I was going to quit," she said of her teammates. "But they don't think I'm going to quit now."
Her teammates have helped her adjust to her new sport and have helped her to learn new moves. She has wrestled four times in meets this year, amassing a 1-3 record. She has wrestled another female wrestler from Granger twice, winning once, and two male wrestlers, losing to both of them.
"I got pinned pretty quick when I wrestled the guys," she explained. "I think they wanted to get it over with really quickly."
But that's OK. Gutierrez said she wants to see how far she can push her boundaries.
She's focusing on learning the essentials of wrestling this year and then next year she'll really work on improving.
"Like go for a title or something," she said with a smile.
Besides tackling fear, Gutierrez also wanted to take on her asthma by wrestling this year. She said she hasn't had to use her inhaler at all this year and eventually wants to crush her asthma.
Her favorite phrase is, "pain is weakness leaving the body."
"When I'm running and it starts to hurt I remember that and it keeps me going," Gutierrez said.
She said her friends have been supportive and proud of her after the initial shock of the "quiet little school girl" trying out for the wrestling team.
"I really love it," she added. "It's great. It's the perfect challenge. It's hard but when you're done you feel satisfied."
Gutierrez will try for some more satisfaction this Saturday, Dec. 30, when she will wrestle at the Freeman Tournament in the Spokane area.