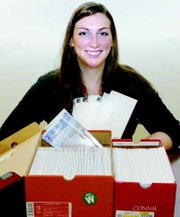 It's New Year's Eve and you're tempted to take one more drink, one more toast, to greet 2007.
Be careful.
Those few ounces of an adult beverage could cost you $10,000 when you tally jail time and fines associated with driving under the influence.
"It certainly can run up to $10,000 by the time you figure in room and board for jail, a treatment program and probation," says Jason Schisow, a deputy prosecuting attorney for Yakima County.
A blood alcohol content of .08 or more will garner you a DUI conviction. If it's .15 or higher or you refuse a blood alcohol test, then you'll be in for even tougher penalties.
Schisow said the court system can require someone convicted of DUI to pay $40 a day for room and board while they are in jail.
Considering the maximum penalty is a year in jail, the costs can add up fast.
Then there are expenses that go beyond fines, which alone could be up to $5,000.
If you're caught driving under the influence you'll have to fork over about $70 a month to rent an interlock device that requires you to test your breath for blood alcohol content before you can turn on the ignition to your vehicle. For one year you'll have to breath into a tube each and every time before you start your car.
Before you get that privilege, though, you'll have to pay for a taxi or hire a driver because your license will be suspended for a minimum of 90 days if your first offense is driving with a blood alcohol content between .08 to .14. If it's more than that you'll have your license taken away for a year.
Again, that's just for a first offense.
That's three months-or a year, or four years in the worst cases-finding another way to get to work, to run to the store or to pick your kids up from school.
That's assuming you'll even be able to leave your house in the first place.
A second offense, you see, will require you to sign up, at your own cost, for 60 days of electrical home monitoring. That's after you've served a minimum of 30 days in jail.
If your blood alcohol content is .15 or more for the second offense, then you'll serve 45 days and be monitored in your home for 90 days.
You're probably getting the picture by now.
But just in case, that third offense will put you in jail for a minimum of three months, with another four months of home monitoring. Your license will be revoked for three years.
If that third offense is with a blood alcohol content of .15 or more, then you lose your license for four years, will serve at least 120 days in jail and be restricted to home monitoring for 150 days.
Now, back to that New Year's Eve party.
It's just one more drink you tell yourself.
But it could be one too many.
If you're a 130-pound woman the second drink-a five-ounce glass of wine or a 12-ounce glass of beer-could put you just a hair under the .08 level.
If you're a 175-pound man that third drink will put you just under the limit, and the fourth would put you well over.
So think twice about one more drink.
Think about the social and financial costs of a DUI conviction.
Think about the most expensive cost of all: the toll on human life, both yours and the other motorists out and about on New Year's Eve.