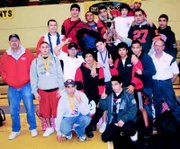 RICHLAND - After a 10th place finish and two second place finishes at tournaments earlier this season, the Sunnyside Grizzlies' wrestling team dominated at the Hanford Winter Cup yesterday.
Topping 13 other teams, including six of their seven CBL league opponents, the Grizzlies scored 190 points to edge out host Hanford with 175 points for the tourney title.
"The only team from our league that wasn't there was Eastmont," Sunnyside Coach George Paulus said. "This gives us a pretty good idea of where we're at in our league."
Four Sunnyside wrestlers made it into the finals with three of them winning individual championships.
At 112 lbs., Isaac Romero went 4-0 for Sunnyside and improved his record to 18-0 on the season.
"He's having a good year," Paulus admitted.
Romero was given a first-round bye and then made quick work of Selah's Shane Merritt, pinning him in 1:05 to move into the semi-finals. There he faced Naches Valley's Michael Moser, whom Romero pinned in 1:03.
This set up the final with Richland's Jake Beiber. Romero was leading 12-2 in the second round when he pinned Beiber three seconds before the end of the period.
Sunnyside's J.T. Gonzalez (125 lbs.) received a first-round bye as well. In his first match of the day Gonzalez faced Riverview's Coit Walker. Gonzalez pinned him in the second round in 3:48. He then faced Carlos Torres from Selah, whom he pinned in 3:53.
"J.T. was behind 2-0 after the first round," Paulus said. "He got an escape and then a takedown and then he pinned him. All of a sudden he was mean and tough. He morphed."
In the finals Gonzalez beat Southridge's Jake Muse, pinning him in 4:52.
At 130 lbs., Sunnyside's Eric Mejia had missed the previous three weeks to a high ankle sprain. The three weeks missed were not noticeable as Mejia amassed a 4-0 record at the tournament.
In his first match, Mejia faced Michael Elizondo of Pasco and beat him 7-5.
"That was his closest match of the day," Paulus said.
He then faced Derick Campbell of Naches Valley and pinned him in 3:26. In the semi-finals Mejia beat Kamiakin's Bruce Pierson 10-5, which set up the final with Richland's Dallon Rindlisbacher. Mejia beat him 10-4 to take the championship.
"Once he got the cobwebs out of his head he was pretty good," Paulus said of Mejia's first meet since coming back from his injury.
Steven Romero (112 lbs.) placed second for Sunnyside. He finished with a record of 3-1 and lost in the final to Osmar Jaimez of Prosser, 7-3.
Two Sunnyside wrestlers finished in third place at the tournament. Jose Barajas (215 lbs.) and Angelo Salazar (285 lbs.) each finished 4-1.
Barajas was pinned by Hanford's Logan Roehme, who finished second in state last year, in the quarter-finals. He then beat Grandview's Adrian Jasso 4-3 in the consolation round.
Salazar narrowly escaped with a win in his consolation final, beating Kamiakin's Kyle Sutphin 1-0.
"This was a close one," Paulus said. "Angelo got a point off an escape in the third round."
Tomas Pena (135 lbs.), Zeke Galvan (152 lbs.) and Danny Alvarez (145 lbs.) all finished in fifth place for the Grizzlies with 3-2 records.
"It was a great team effort," Paulus said. "We had four guys in the finals. It was a great effort by everyone."
Sunnyside will start its league matches Thursday, Jan. 4, when the Grizzlies host Southridge at 7 p.m.