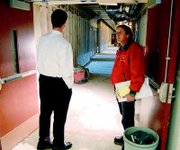 A fire on Dec. 17 caused extensive water and smoke damage to the school. An area known as the commons was completely destroyed.
Initially, district officials thought it would be Feb. 5 before most classes could return to the building. It was also anticipated that fourth and fifth grade students would have to attend classes elsewhere for the rest of the school year.
"The insurance company at first said there was no chance we could re-open (by Jan. 3, when winter break ends)," said Superintendent Dr. Rick Cole. "Then a week ago they said it might be 50/50 and a couple of days ago they said if we could pass a couple of inspections then we could be in."
At 10:55 a.m. today the school passed a final inspection, a check of the building's fire alarm system, and received the go-ahead to open Jan. 3.
Cole attributed the turnaround to teamwork and a fire door.
"We knew everything would have to come together perfectly to make this work, and it has," Cole said, praising the cooperative efforts of its building contractor, school district employees, Yakima County officials, and the district's insurer, Canfield and Associates.
As to the fire door, Cole said it kept smoke and water at bay much better than first believed.
Contractors are on site, cleaning everything from the air ducts to individual pieces of student artwork that still adorn the school's walls.
Carpet and wallboards are being replaced and the school has had a dose of ozone piped in to clear smoke from the air.
There is still work to do in the school's fourth grade wing and those students will be shifted to Outlook's pre-school classrooms until Feb. 5.
So, for a month or so, Outlook pre-school students will have their classes meet at Pioneer Elementary and learning assisted classes will be held at Washington Elementary.
Cole said those two programs have their own transportation systems already in place and are easier to relocate on a temporary basis.
The commons area likely won't be rebuilt until the next school year, though wood flooring could be replaced in the new gym before the end of this school year.
Cole said there is a temporary delay in getting to work on the commons since investigators are still trying to find out what caused the fire. He indicated the investigation should wrap up by the end of January.
Students, for now, will eat their meals in their respective classrooms. A temporary cooking station has also been set up at the school to keep meals warm.
Cole said students don't have to worry about buying new learning materials as those have all been replaced as needed.
For Outlook Principal Robert Bowman, 2007 is looking better than he could have possibly imagined just a few days ago.
"We're excited," he said while touring the school this morning.
Bowman said teachers are calling parents to share the good news.
"It's great to know we won't have to move all the students and staff," he said.