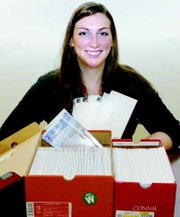 Brianne Downing, a 2001 Sunnyside High School graduate and current University of Washington student, likes to travel. Soon she will be traveling 3,736 miles across the Northern United States on a bicycle. On the way she will be raising awareness about the lack of affordable housing and will even help build a few houses herself.
Downing will join 30 other young adults in a group called Bike and Build. This is an organization started by two Brown University students to help raise money and awareness on housing issues and the organizations that provide cheap housing to people who need it.
To participate in this trip she will need to raise $4,000 before she starts her trip on June 7, 2007, in Providence, RI. Part of the money Downing and her teammates raise will go to Habitat for Humanity to help fund a house being built in Providence and the rest will be put in a grant fund for different housing organizations to apply for.
"I'm sending letters to people I know and my family knows asking for donations," she said. "I have 138 letters to send out."
Downing learned of the cross country trip when she was researching a budget travel magazine to find a solo trip she could take. Within three weeks of finding out about Bike and Build, she was sending off her application.
"I haven't done a lot of exciting things and I figured this is a cause that's worthy," she said. "I want people to open their eyes. People think we live in a classless society but that's not true."
She said it's the children, senior citizens and the disabled that are affected by the bad housing situation.
"Kids need a decent home life to do well in school," she explained. "Affordable housing can help. If parents don't have to use 50 percent, sometimes more, of their income to pay for their homes, they could use more of their money and energy on their children."
Downing and her group will spend a few days in Providence before setting out for Seattle. The trip will end on Aug. 15, 2007. There will be 10 build days on the trip. The group will ride to different cities and approximately once a week will spend a day helping organizations, like Habitat for Humanity, build houses.
The 10-week trip will take Downing through 13 states and three mountain ranges. On the days the group is not building, they will be promoting affordable housing to the citizens of the town they are in.
She said since she considers herself a traveler rather than a tourist she feels she needs to be knowledgeable and appreciative of her own country before she can appreciate other countries and on this trip she will get to see a lot of the United States.
All donations to the cause are tax deductible and those wanting to help Downing raise her $4,000 can call her at 206-225-6429 or log onto www.bikeandbuild.org. Once there click on the icon, donate, and then scroll down to Downing's name.
Downing's adventure can also be traced by logging onto www.eatsleepbikeandbuild.blogspot.com.
Corey Russell/Daily Sun News
Brianne Downing is hoping to raise $4,000 for an organization that helps people with affordable housing. She has 138 letters she will send out to family and friends asking for their help.