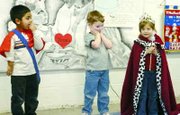 Students in Mary Schlenker's pre-school class at the Sunnyside United Methodist Pre-School took a break from learning the alphabet and how to write numbers to have a bit of fun Wednesday afternoon.
The kids learned about the nursery rhyme 'queen of hearts.' The children acted out the rhyme in a play and then they made strawberry tarts.
"We're starting the Valentine's Day holiday by making things for the kids," Schlenker said. "We teach them about love and bringing joy to others doing it by making cookies."
There are three characters in the play and the students took turns playing each part. The characters were the King, the Queen and the Knave.
The story goes like this. The Queen of Hearts made some tarts and the Knave stole them and ran away. The King called him back and when the Knave returned, he was spanked.
After one group finished performing in the play, they went into another room to learn how to make strawberry tarts. Susie Myers, a retired kindergarten teacher and volunteer at the Sunnyside United Methodist Pre-School, showed the kids how.
"The children are also learning about ingredients and the measuring process," Schlenker added. "The play helps them learn how to memorize."
The children also learned about shapes, she said. The tarts were in the shape of a heart.
"This also gives the parents an idea of something they can do with their kids at home," Schlenker said. "A simple activity in the kitchen will help the kids learn a lot of important things."