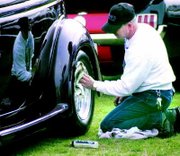 The second annual All School Show and Shine will take place Saturday, March 4, at Sunnyside's Clem Senn football field.
Drivers of all ages and vehicles of all makes and years are welcome. "Last year we had cars and trucks that were both old and new, motorcycles, bicycles and one boat," Kim Taylor Morris, an organizer for the event, said.
For those wanting to enter their vehicles, the cost is $10 per car or truck for adult entries and $5 for students with IDs.
Spectators will be charged $2 for adults and $1 for students with IDs. All proceeds will go towards the Sunnyside High School senior party.
Organizers are hoping to raise at least the amount raised last year.
"Last year we raised more than $2,000 with 130 entries," Morris said. "This year we expect at least 150 entries, especially if the weather is nice."
Gates will open at 11 a.m. and the judging will begin at 1 p.m. Awards made by students in the Sunnyside High School metal shop will be handed out at 3 p.m.
Concessions will be available. For more information call 837-3778.