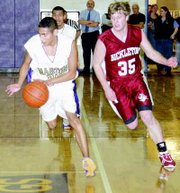 MABTON - Relying on Alex Zavala's 28 points, the Mabton Vikings beat up on the Bickleton Pirates last Friday night, 77-37.
With the Vikings shooting 61 percent from the field, everyone on the team seemed to contribute.
"I was extremely pleased with our effort against Bickleton," Mabton Coach Brock Ledgerwood said. "All 11 players played for us and contributed to our win."
The Vikings poured in 11 3-pointers and were 44 percent from the free throw line.
Besides the 28 points, Zavala also had 5 assists. Luis Quintero put in 13 points, grabbed six rebounds and blocked four shots.
"Luis Quintero played a very good game inside for us," Ledgerwood explained. "He continues to work hard and get better inside the paint."
Frankie Smith contributed 9 points. Juventino Morfin and Tyler Herrera each had 8 points with Herrera getting six steals.
On Saturday night Mabton hosted league rival and the cause of Mabton's only league loss, Riverside Christian. The Crusaders again were able to come away with the win, this time beating the Vikings 59-46.
"Riverside Christian got up early on us and that allowed them to control the game," Ledgerwood said.
Riverside led 13-11 after one quarter and widened its lead to 28-20 at halftime.
"They were able to capitalize on some breaks early on to build a lead," Ledgerwood explained. "We were fighting from behind from the beginning."
In the third quarter Mabton fought back and got to within six points to start the fourth quarter.
Ledgerwood said the Crusaders killed the Vikings on the boards. Twice the lead was cut to four points only to have the Crusaders open their lead with the second and third opportunities their offensive rebounds were giving them.
"We cannot continue to give up offensive rebounds if we want to beat the top teams in this league," Ledgerwood said. "We have to do a better job defensively and on the boards. We have to contain the dribble better and keep the ball out of the paint."
Ledgerwood said Riverside controlled the game with patience and solid defense. "They did the things we wanted to do a bit better and that was the difference."
Zavala again led the Vikings with 16 points. Andy Rodriguez added 12 points and Enrique Huecias and Eric Tellez each had 5 points.
"There aren't any gimmies in the playoffs and the playoffs start Tuesday at Sunnyside Christian," said Ledgerwood. "We have to step up our defense, step up our rebounding and bring the intensity for 32 minutes. If we do that, we will give ourselves an opportunity to win every night and that is all we can ask for."
Mabton (9-2, 14-5) travels to Sunnyside Christian Tuesday night for its last regular season game.
"We can clinch a share of the league title with a win at Sunnyside Christian or we can be dropped to third with a loss," predicted Ledgerwood. "It is time for our kids to step up."