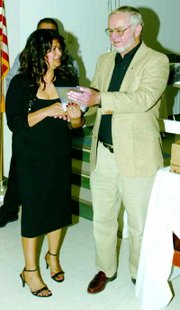 ZILLAH - The Lower Yakima Valley Association of Realtors held its annual recognition and awards banquet last night at the Zillah Civic Center.
For the third year in a row Isabel Roos, a realtor for DK Bain Real Estate, Inc., won the award.
"I'm kind of shocked because I didn't even know I had been nominated," she said.
Realtors are nominated by their peers and then a committee picks the winner.
"She was extremely active this year," Ellen Iverson, executive officer for the Lower Yakima Valley Association of Realtors, said. "She won because of the amount of activity she has done for the good of the organization."
Roos' husband agreed. "I think it's terrific," Todd Roos said. "She works hard, she deserves it."
Roos has worked as a realtor for 13 years. She won her two previous awards while working for Prudential Valley Investment Property.
"I like to help people make their dreams come true," she said.
Also last night, Jay Gardner was presented the for Realtor community service award. The Realtor achievement and special recognition award went to Jeanette Castle.
Pacific Alliance Title, LLC took home affiliate of the year honors and Kenneth Nelson and First American Title Company each received the RPAC Plus award.
The President's award went to Isidoro "Easy" Garcia and Jose Miguel Juarez.
Throughout the evening prizes were handed out through a raffle. Realtors took home items such as cash, a hand held massager and gift certificates.
The evening also featured a cake auction. Money raised from this event supports the Realtor Political Action Committee. All funds from RPAC go to support political candidates in Olympia. Last year the association of 71 members raised more than $16,000.