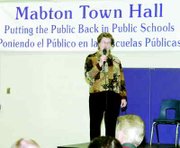 MABTON - Mabton's fourth annual town hall meeting this past Saturday gave parents of students in the district and residents of the town a chance to experience what students are learning in school, if only for 10 minutes at a time.
"First, second and always, our focus is on the students," said Mabton Superintendent Sandra Pasiero-Davis to begin Saturday's meeting.
Pasiero-Davis said the point of Saturday's meeting was to see how far Mabton has come, and where Mabton is going in terms of the educational experience of the kids in the district.
"The influence you have in this town hall is powerful," she said, noting that suggestions would be taken to heart by administrators.
Previous town hall meetings have resulted in improvements in WASL scores and better communication to and within the district, she said.
Pasiero-Davis said scores in WASL math tests have improved in the past six years, with town hall meetings having occurred in three of those past six years.
In 1999, Pasiero-Davis said just 40 percent of Mabton sophomores passed the math portion of the WASL. In 2005, that number had improved to 60 percent.
Readiness for college has also improved, she said. In 2004, 94 percent of Mabton seniors were prepared for college, she said. And in 2005, not one of any of the Mabton High School graduates who attended college dropped out.
"That's powerful," Pasiero-Davis said.
In comparison, the national dropout rate is about 25 percent for the first year, she said.
Robert Morales, an administrator at Artz-Fox Elementary School and resident of Grandview, said though he doesn't live in the community, he feels just as much a connection to Mabton as he does to Grandview.
"I think they're (town hall meetings) a big part in figuring out what's going on in the district," Morales said, noting they can often become a road map as to how to proceed.
He also added the meetings are an "invitation to get parents involved."
Steve Busby, who works at Mabton's FOCUS High School, said the numbers show that Mabton students are steadily improving.
"The data shows, over time, that we are improving," he said.
In fact, school district staff are often amazed at how many students are on college honor rolls.
Gates Grants, Busby said, are often a "powerful incentive," because many Mabton students feel like they can't afford to go to college.
The "Mabton Experience" was intended to answer questions about how students learn, and what they're learning.
In Tamara Steen's classroom, parents and students in attendance learned reading comprehension, and how Steen teaches Mabton High School students.
"Purpose is very critical," said Steen in teaching reading comprehension.
Steen had participants read a pre-selected text, which contained some dry reading material, she said.
After giving her "students" a purpose for reading the material, many were able to select important parts of the material they wouldn't have otherwise been able to pick out.
"It's very difficult to do this in 10 minutes," Steen said.
While reading can be an important skill in jobs in the future, math is a skill many people often think they don't need.
With WASL math scores lagging behind the other sections in many districts, math teachers are often charged with trying to improve those scores.
In Mabton, Ryan Downing is trying his best to use a positive attitude to help students succeed.
"We're really working on problem solving," he said.
He said he thinks it's possible that scores will improve when students need to pass the test to graduate, but it's too early to really tell.
Teaching slope-intercept form calculation, Downing's exercise was to try to teach parents that the basics of math build a better foundation to pass the test.
"I would like to believe that, but you never really know until it happens," he said.