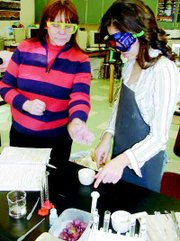 Forget going to State.
At least one of Joyce Starks' Sunnyside High School Science Fair students have advanced to Nationals each of the past 25 years.
When Starks' students started their national run, former "B" movie box office star Ronald Reagan was in his first term as president and Weird Science was playing at the box office.
But forget Weird Science, folks, this is real science.
Want to know the best way to package grapes, and at what temperature, to produce the most nutrients?
Biology student Mayra Serna is working on an answer to just that question and, along with about 35 to 40 Sunnyside students, will present her findings at the Regional Science Fair, March 9-11 in the Tri-Cities.
The official title of her study is no less imposing: "The effects of environmental conditions and packaging materials on grape nutrients."
So why is Serna, clad in goggles and gloves, searching for great grapes?
"One time I had a grape that didn't taste so good, so I wanted to find out the best way to store them," she said.
So now she's storing them in zip lock bags, Tupperware, aluminum foil. Frozen, chilled and warm, no less, in pursuit of the optimal grape.
Preparing a Science Fair entry is no sweat, literally, for Sunnyside high schooler Jacob Rogers, who is researching the impacts of lotions, such as Tiger Balm, on the evaporation of sweat.
"I like running, so I wanted to do something relevant to that," he said of his sweaty science.
So how does he plan to get the sweat to conduct his study?
In true empirical form, he's going to create artificial sweat in the laboratory.
Does Rogers see a future for test tube sweat?
"I guess some day people could use it to make it look they've worked out then they really haven't," he smiled.
As we wait for that marketing scheme to develop, Rogers' classmate Naomy Velasco is dyeing to complete her project.
In short, Velasco gets to play with candy for her Science Fair entry.
Forget eating this candy, though, as Velasco is removing all the pigment from the sweets to determine what dyes were used.
Why dye?
"Some candy dyes are illegal or only a certain amount of them can be used in candy," she explained. "This (research) will show what dyes were used and how much."
Freshman Elvira Chiprez, meanwhile, is working on research that, well, may bug you.
"My project is to see how pesticides affect the growth of plants and insects," she said. "Sunnyside is predominately an agricultural community, so I thought this would be important to our community."
But it's not just biology students, or high school students, for that matter, who are gearing up for Science Fair.
Under the guidance of John Hayes some Harrison Middle School students will participate at regionals. In addition, Starks said some chemistry students at SHS will cross over and enter the Science Fair.
The one constant during Sunnyside's national run for Science Fair has been Starks, now in her 29th year teaching at the high school.
Leading by example, Starks spent a year in Washington D.C., on sabbatical working in the NOAA office.
"I had a chance to bring inquiry into NOAA's educational office," she said. As a result, NOAA now participates in Science Fair, sending representatives to judge at the 450 regional fairs nationwide.
"That was my personal goal in going to NOAA," Starks said of the federal agency's commitment to Science Fair.
While at D.C., Starks also provided assistance based on tsunami readiness.
With Starks a continent away from her students during the 2004-05 school year, maintaining the state run was not easy.
Starks said she and then-Sunnyside senior Kacee Jo Bootsma made up the distance via fax, e-mail and phone as Bootsma advanced to Nationals with her project, entitled "Stormwater Drainage Systems."
Starks said she hopes the lessons students learn at Regionals and National aren't forgotten, but stay with them as they progress through high school and into adulthood.
"Science Fair gives them experience in computer skills, how to use graphics and word processing," she said. "It teaches them to problem solve."
All of which sounds like a recipe for future trips to Nationals.
"Every year I wonder if we'll have a student go (to Nationals)," said Starks, "and sure enough, every year we've been able to have someone make it."