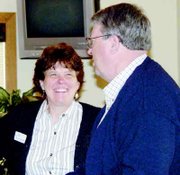 Second-guessing a group of people she had never met before, Sunnyside's new librarian came to the Noon Rotary meeting Monday prepared to provide something for everyone.
That, Amy Ravenholt said, is exactly what a public library is intended to do...and, she added, that's what library patrons in Sunnyside can expect when they visit the library.
Amy Ravenholt came on board at the library in January as its new branch manager. She said she brought her own set of skills and knowledge with her, but is relying on the current staff to bolster her in areas of the job still unfamiliar to her.
"My staff is still training me," she told the Rotarians with a smile.
Ravenholt smiled a lot during her presentation, apparently at ease in her role of library spokesman, but admitted at the end of her noon day talk that public speaking is not tops on her list of fun things to do.
The Rotarians seemed pleased with her presentation that clued them in to what services Sunnyside library patrons are asking for the most. High on patrons' lists, Ravenholt said, was computer use.
"That's the main thing I wanted to feature for you today," she told the Rotarians, as she presented them with facts about a cheat sheet the library provides that lists "good web sites" that can cut down on internet surfing for information.
"If patrons work through our links first it can save them time," said Ravenholt, who noted that the list was prepared by library staff to help save them time too.
"The list covers subjects the public is generally interested in," said Ravenholt.
Sunnyside patrons have free access to premium data bases that levy a charge for articles printed off, if you aren't a library card holder. "It's not free to the library," said Ravenholt, "but we've dedicated a part of our budget to this service."
Whether a patron wants to know how to pull a radiator out of a car, repair a crankcase or track down a long-lost friend, Ravenholt said the Sunnyside Library is the place to go.
She also asked the Rotarians-and anyone in Sunnyside-for some help in locating historical pictures that could help tell the story of this valley.
She said the Yakima Valley Museum and Yakima Regional Library have joined forces to gather historical photos taken around the valley.
"We are trying to give an idea of the historical diversity that's been in the valley," said Ravenholt.
Some of those photos are featured in a 2006 calendar called Yakima Memory.
"We would like to see more pictures from the Sunnyside area," she said, explaining that the original pictures would not be retained by the museum, but would simply be scanned.
"So, if anyone has any photographs they would be willing to share, just let me know," she invited.
Ravenholt said the mission of the library is to support literacy in the valley and support career development.
She said there are all kinds of materials that would be helpful to anyone considering a career change, whether the goal is to study for the military, postal exams or firefighters' exam. "All sorts of things," she said, can be found at the library to assure the success of those studying to pass exams that could lead to new careers.
She said the Sunnyside Library has approximately 30,000 books and an increasing collection of DVDs, CDs and movies to keep up with the increasing interest in them.