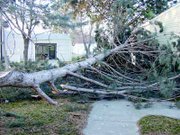 An Arctic front moved through the Lower Valley over night and into this morning, dropping temperatures to nearly single digits and bringing high winds that snapped trees.
Power outages were first reported at around 9:30 p.m. Thursday night, noted Pacific Power and Light spokesperson Bekki Witt.
At the storm's peak, 800 customers lost their power in Sunnyside and 1,500 customers were without power in the Yakima area, Witt said.
As of Friday morning, all but 200 customers had their power restored in Yakima, while the 800 in Sunnyside are still without power.
"We're working on that and hopefully by 6 p.m. (Friday) we'll have power restored to all 800 customers," Witt said.
She noted that all the outages were related to the wind storm, including power poles blown over or lines downed by falling limbs or trees.
Pacific Power crews from Yakima and Sunnyside are at work now in the Sunnyside area. Witt said three additional crews have been called in from outside of the valley to help restore power.
If high winds continue today, Witt said it is possible repairs could be further delayed.
"If the wind keeps blowing and poles or lines get knocked down it will take more time to get those back up."
Downed trees resulted in a close call for some residents at the Sunnyside Housing Authority's Paradise Court, located at 1500 Federal Way. One tree just missed a housing authority home along 16th Street, near the railroad tracks.
The State Patrol reported that snow and minor traffic collisions closed State Route 821 and Interstate 82 between Selah and Yakima. The closure started at around 8 p.m., noted the State Patrol, and re-opened at 12:30 a.m. this morning.
Elsewhere in the valley, the Yakima County Sheriff's office reported that Roza Drive in the Zillah area was closed for several hours over night due to a downed transformer.
In addition, Terrace Heights Drive between Locust Ave. and S. Seventh St. in Yakima was expected to be closed until noon today due to Pacific Power repairs, the Sheriff's Office noted.
The county's public services director, Vern Redifer, also reported that the Terrace Heights and Cheyne Road landfills, as well as the Lower Valley transfer station between Outlook and Granger, were to be closed today (Friday) due to high winds, blowing debris and fallen trees. A spokesman from Redifer's office said it's anticipated the landfills and the transfer station will be reopened by Saturday.