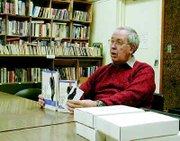 With a view towards prioritizing spending needs, and separating them from wants, Consumer Credit Counseling Service provided a free, one-hour workshop at the Sunnyside Library Thursday evening.
Consumer Credit is holding the workshops because of recent changes in federal law increasing the minimum payments credit card customers must make on their accounts.
"In some cases it's doubling the amount of the minimum payment," said Geoff Baker, Executive Director for Consumer Credit Counseling Service of Yakima Valley.
Baker, who taught the workshop last night, encouraged the small group in attendance to negotiate with their credit card companies from a position of strength.
"Tell them (the credit card companies) that you want a lower interest rate," he said. Baker noted that companies will listen to requests and may respond if they feel a consumer may move his or her account elsewhere.
The workshop included a free book and video tape entitled "Life or Debt," by Stacy Johnson, regularly featured on local television newscasts.
Using some of Johnson's principles, Baker showed how couples can together discover the financial priorities that each have.
"Maybe one spouse is wanting to save for a house, but the other one wants to buy a new fishing rod," he said, in stressing the importance in negotiating between long and short term goals.
He cautioned against spending money based on emotion and encouraged creative, inexpensive means of recreation such as bike riding or a walk in the park.
Regarding credit cards, Baker encouraged the class to pay them off one at a time, starting with the card that has the highest interest rate.
"Closing out a credit card account does not harm your credit," he noted.
In budgeting, Baker said to start with fixed costs such as rent or mortgage payments. "Pay yourself first," he added, noting that families should try to establish an emergency fund equal to four rent or mortgage payments.
By tracking expenditures, Baker said families can learn to budget and know where their "pocket change" is going every month.
Baker is planning another free workshop next Thursday, Feb. 23, again at the Sunnyside Library starting at 6:30 p.m. The workshop will be offered in both English and Spanish languages.
He said Consumer Credit hopes to have future workshops in Grandview, Ellensburg, Omak and Chelan.
Workshops are held whether one or 30 attend them, Baker added, with the first 10 receiving the free book and videotape. "If only one person attends we tell them not to worry, they're the most important person in the room."