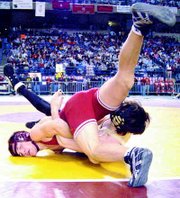 TACOMA - Grandview took seven wrestlers to the Mat Classic this past weekend and came home with four placers.
The 'Hounds weren't able to lay claim to any individual titles as third place showing was the highest any of the Grandview grapplers were able to finish.
Senior Tovias Magana, at 171 lbs., claimed Grandview's highest individual title, as he pinned Chelan's Tate Collins in the second period of the consolation finals.
"He wrestled an outstanding tournament," said Grandview Coach Jeff Sevigny.
The third-place finish had to be disappointing to Magana, who looked to be on a roll to the finals, easily winning his first two matches, 11-2 and 8-4.
But Chewelah's Devon Benedict proved to be too much for Magana to handle, as he lost in the semi-finals, 8-5.
Magana was able to recover from the loss to pin Collins and take third place.
Sophomore Fernando Godinez claimed the next highest title for the 'Hounds, claiming a fourth-place finish at 130 lbs.
Godinez managed to win his first match against Victor Nesenchuk of Deer Park 12-4.
Godinez then dropped his next contest to fellow sophomore Jeff Fetter of Orting 9-6. Fetter had blown past his first-round opponent, blanking him 11-0.
The loss dropped Godinez to the consolation bracket where he faced Rogen Lopez of Vashon Island. Godinez beat Lopez in a close match 7-5
Godinez then cruised through a match with Nooksack Valley's Vince Rediger, pinning him in the second round to reach the consolation semi-finals.
Godinez needed only to get by Lakeside's Kyle Cartwright to set up a rematch with Fetter, who knocked him out of the championship bracket in his second match. Godinez was up to the task, as he managed a 9-4 victory over Cartwright.
The win set up a rematch with Fetter, but the second time around wasn't any different than the first, as Godinez lost another close match 6-3.
Grandview's Rigo Rodriguez, at 189 lbs., also laid claim to a fourth-place title.
The senior, who was wrestling on a bum ankle following injuries to it at Districts and Regionals, won a close first-round match before falling in the second round to Chewelah's Frank Trampush by major decision 15-3.
Rodriguez followed the loss with a second-period pin to advance to a consolation match-up with Blaine's Blayne Brandenburger. A win would send Rodriguez into the consolation semi-finals.
Rodriguez beat Brandenburger in a close match, 5-3, then advanced to the consolation finals by winning another close match 7-6 over Lakeside's Dustin Baldwin.
Unfortunately, Rodriguez couldn't keep the streak of close wins alive as he fell in the consolation finals to Cory Creighton of Stevenson 9-2.
The loss ended the senior's wrestling career on a sour note and left him one place lower than he wanted.
"I think he was disappointed that he lost but happy that he placed at state," Sevigny said.
Grandview's final placer was Shay Seimears at 135 lbs., who finished in seventh place.
"He had kind of a rough tournament," Sevigny said.
The theme continued for the 'Hounds as another Chewelah wrestler knocked off a Greyhound wrestler, this time it was Chewelah sophomore Marcus Henderson over Seimears 5-2 to force Seimears prematurely into the consolation bracket.
Seimears rebounded, winning his next two matches to get the senior into position to make a run at third place, but Drew Walker of Omak ended his run, beating Seimears 4-2.
But Seimears wasn't going to roll over and bow out of the tournament, not with seventh place still up for grabs.
Mike LaPointe was all that stood between Seimears and a place at the Mat Classic.
Seimears took control and wound up with the victory, winning going away 11-2.
In the 2A classification, Grandview didn't fare all that poorly as a team, finishing with a team total of 56 points, good enough for 12th place behind champion Lakeside, with 151.5 points.