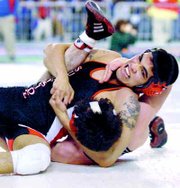 TACOMA - Senior Steve Sanchez capped off his prep wrestling career with a second straight State wrestling title this past weekend, topping all comers in the 125-lb. weight division.
Sunnyside High School teammate Isaac Romero, just a sophomore, will have two more chances at bringing home a State title after finishing second in the 103-lb. weight class. He also was the 3A State runner-up last year at 103 lbs.
The Grizzlies' third entry at Mat Classic XVIII this past Friday and Saturday in the Tacoma Dome, 119-pounder J.T. Gonzalez, didn't trophy. But he did win his opening bout before being eliminated with two consecutive losses. And, like Romero, Gonzalez has two more years of eligibility to improve on this year's finish.
In bringing home the 125-lb. State 3A title, Sanchez earned the storied Sunnyside wrestling program its 28th State championship. He won the 27th State title for the Grizzlies last season as a 119-pounder.
Sanchez faced a familiar foe in this year's State championship match, Spokane's Jaime Tamura of North Central High School. The Sunnyside grappler tech-falled Tamura two weekends ago in Wapato to win the Regional title, but in Tacoma Tamura provided a much sterner test. In the end, however, Sanchez prevailed 10-7.
"The Tamura kid and Steve (Sanchez) wrestled against each other three teams this season," said Sunnyside Coach George Paulus. "I'm sure they watched film of the earlier meetings.
"Tamura came in a lot better prepared. He was able to counter some of the things Steve was trying to do. He found an interesting way to break Steve's leg rides," Paulus expalined.
Sanchez advanced to the title bout by pinning Chris Stone of Renton High School Saturday morning, in the first round of their semi-final match. Stone had advanced to the semi-final round with a 7-4 decision over Tim Klippert of Cheney and a 10-1 quarter-final thrashing of Sam Bisbey of Sedro-Woolley. Sanchez's quarter-final victory-a relatively close 8-4 decision-came against Victor Harkness of Bellingham. Sanchez opened the State tourney by scoring a first round pin against Tyler Trulson of West Seattle.
Sanchez finished out his senior year with a mark of 32-2, which brought his overall high school record to 94-10. Besides the two State titles he earned, he was fourth at State as a freshman in the 103-lb. weight class and placed sixth at State as a sophomore at 112 lbs., despite dislocating his elbow in one of his Tacoma Dome matches that year.
In advancing to the 103-lb. championship match, Romero's first victory came against Colin O'Donnell of Mt. Rainier. The Sunnyside grappler pinned O'Donnell in just over a minute. In the quarter-finals, Romero eked out a 7-3 decision against Justin Purves of White River. That four-point win propelled Romero into the semi-finals, where he defeated Shane Hunt of Sedro-Woolley by a 10-5 score.
Advancing to the title match, Romero met up with national freestyle wrestling champion Jim Belleville of Black Hills, only a freshman, who brought a sparkling 36-0 season record into the match. Romero was game, but ended up succumbing 12-4.
"Belleville has been wrestling since he was five years old," said Paulus. "He's very agile, as well as quick.
"It seems like no matter what you do against him, he works it to his advantage. He's an extremely good wrestler," Paulus added.
The match-up between Romero and Belleville was their third of the season. Romero took him to overtime at the Hoquiam invite before dropping the decision.
"One thing about Isaac, he doesn't give up," Paulus said of Romero, who finished his sophomore season with a 32-6 record.
Gonzalez's lone victory came in his opening 119-lb. bout. The Sunnyside sophomore blanked Bellingham's J.R. Fitzgerald, 8-0.
The 8-0 major decision gave the Grizzlies one extra team point at State, which afforded Sunnyside an eighth place finish, despite having just three wrestlers at the Tacoma Dome.
"A top 10 finish, with just three wrestlers, not too bad," said Paulus.
In the quarter-finals, Gonzalez lost a 6-2 decision to Jared Dalgleish of Kelso, the eventual State champ. After sustaining the loss to Dalgleish, Gonzalez came out on the short end of a heartbreaking 2-1 double overtime decision in the consolation round, to Jeremy Baarsma of Aberdeen. Baarsma went on to place seventh.
Gonzalez finished his sophomore campaign with a mark of 30-7.