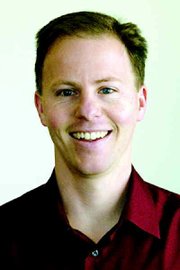 GRANDVIEW - The new grape and wine education center that's being established on the Grandview campus of Yakima Valley Community College has been put into the hands of Trent Ball.
He was hired by YVCC in late summer 2004 to head its Agriculture Department and instruct the viticulture (grape production) and enology (wine production) courses in Grandview.
"The old Safeway shell in Grandview is being re-done as the Wine and Grape Education Center. We're hoping construction will begin in August (2006) and be completed in the fall of 2007," said Ball, who added that he will hold the first meeting of the center's first steering committee Monday, Feb. 27.
"There are 12 people on the steering committee. They will be working with me on curriculum revision and a two-year program that will lead students to an associate of science degree," said Ball, who currently is working on the conceptual design for the education center.
Ball comes to the position from Washington State University, where he earned a Master's Degree in agriculture business in 2001. He also received a BA degree in food science with a minor in agribusiness from the University of Idaho in 1999.
In addition to courses focusing on wine grapes and the Washington wine industry, he will also teach various agriculture classes, such as farm management and introduction to agriculture, he said.
"I think it's an exciting time. Especially at Grandview, we're sitting in the heart of the wine country," Ball said, adding that he is looking forward to "filling the needs of the industry and graduating students that they want in their work force."
Ball, who is from southern Idaho, and his wife, Kate, moved to a home at the outskirts of Prosser after he was hired by YVCC.