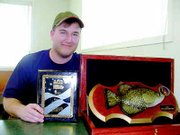 RENO, NEV. - A steady diet of coffee, some good cards and three days of constant playing earned James Morrow second-place honors in what could be described as the Super Bowl of cribbage.
The Sunnyside resident had competed before at the national open, named for American Cribbage Congress founder Joseph Petrus Wergin, but had never lasted more than a round.
This year's open was different, as Morrow-one of 1,066 competitors in the field-came home with the second place award.
Held Feb. 10-12, the national cribbage open was staged at the Sands Regency Hotel in Reno, Nev.
After making it through the initial rounds, placing in the top 25 percent of the field after 22 games, Morrow still faced more than 50 cribbage games before reaching the finals.
Along the way, Morrow knew this was going to be a special tournament as he reached first one milestone, then another.
"When I got in the top 32, when I got to that round I was pretty happy," he said.
Then came the top 16.
"At that point I knew I was going to finish in the money, because the top 16 come away with at least $800 in prize money."
By the semi-finals Morrow was indeed flying in rare air, taking on a two-time national champion and winning 3-2 in the best-of-five format.
"It takes some skill," he said of reaching that point, then added with a smile, "But if you have good cards it can make you look like a pretty skilled player."
That set up the finals.
"The champion brings home $10,000 and second-place $6,000," he said. "But we decided to split it at $8,000 each."
While the financials were settled, there was still the matter of playing a championship round of cribbage.
"It was pretty cool," Morrow recalled. "They roped off our table and people stood around us to watch."
The outcome may not have gone his way, a 4-1 loss, but Morrow is feeling like a winner these days.
And well he should, taking second-place out of more than 1,000 competitors.
Besides the prize money, Morrow received a plaque and a mounted plastic fish that is actually a cribbage board on the other side.
So, does he intend to play a game on his catch?
"No, I'll probably keep it as a souvenir," he said.
But he does intend to play again, and again.
Morrow is already back playing at the cribbage club gatherings he helps run here in town. He's also preparing for the Washington State Open, which will be held at the Sunnyside Fraternal Order of Eagles lodge from March 31 to April 2.
"I like teaching people to play," he said.
For more on the cribbage club or the state open, or just to meet a Super Bowl competitor in person, Morrow can be contacted at 837-4224.