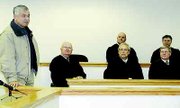 GRANDVIEW - After an eight year absence, Yakima County court services are back in the Lower Valley.
To mark the occasion, black-robed judges, county commissioners and other local officials were on hand Wednesday for a program and open house to see first-hand the new Yakima County District Court at 1313 Wine Country Road in Grandview.
The culmination of a 15-month process, the court officially opens its doors next Wednesday, March 1.
"The best thing I can say is we're back!" county court consultant Harold Delia told the packed house in comments to kick-off the open house.
In praising a number of people, including taxpayers who funded the court site via the three-tenths of 1 percent tax initiative, Delia noted initial discussions with Lower Valley officials 15 months ago.
"Jim Sewell (Grandview's retiring city administrator) told us whatever we do, bring the court back," Delia said. "We kept our promise and we're glad to be here."
County commissioner Jesse Palacios was Grandview's mayor eight years ago when the district court left the Lower Valley.
"It's a wise decision (to return) on the part of the judges," Palacios said, later noting that 40,000 people live within a 20-mile radius of Grandview.
Citing the rising cost of gasoline and the time crunch many people feel in traveling all the way to Yakima for court business, Palacios said restoring the Lower Valley court "was the right thing to do."
He added that district court is likely just the first of many county services that will be available in the Lower Valley in the future.
"I can see this used as a superior court and, with the technology we have available, it could be a place to pick up building permit applications," Palacios said.
Joking that he was just at the right place at the right time, Presiding Judge Michael McCarthy said he and the county's other district judges were happy to be back in the Lower Valley.
Another judge added that the Grandview site could eventually provide court services such as temporary restraining orders in cases of domestic violence.
Grandview Mayor Norm Childress said the new court is an example of partnership between county and local government.
"I think it's great," he said. "We (Grandview) are glad to be the place where it's located."