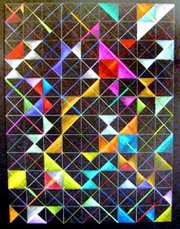 YAKIMA - The 33rd annual ESD 105 Regional High School Art Show is set to begin this Sunday, Feb. 26, at the Allied ArtsCenter Gallery in Yakima.
Grandview High School student Aaron Riggs' color pencil art drawing titled, "Blame It On My Cat," will be one of 82 pieces displayed by students during the exhibit, which runs until March 13.
A total of 12 high schools will be represented during the art show, which features the best of student paintings, drawings, photography and sculpture at the Allied ArtsCenter Gallery, located at 5000 West Lincoln Avenue in Yakima.
An opening reception and awards ceremony will be held this Sunday from 2 to 4 p.m. After that, the exhibit will be open Mondays through Fridays from 9 a.m. to 5 p.m.
Art teachers in South Central Washington high schools were each allowed to submit up to six pieces of student work for this event.
Of the 83 on display, six will be selected by local jurors to advance to OSPI's statewide Superintendent's High School Art Show, which will be held April 21 through June 1 at the Old Capitol Building in Olympia.
Additionally, one of the local pieces will be purchased by the ESD 105 Board of Directors for permanent display at the ESD 105 Conference Center.
The annual show is sponsored by ESD 105, Allied ArtsCouncil of Yakima Valley and the Office of Superintendent of Public Instruction as a means to support arts education and provide a venue for student artists to showcase their works.