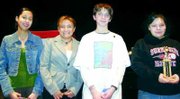 With many participants dressed in athletic clothing following the beginning of spring sports at Sunnyside High School, science teacher Joyce Stark handed out awards that marked what were judged to be the best projects at the school's annual science fair Monday night.
"We appreciate everyone coming from sports," Stark said.
The short ceremony, which was attended by both students and parents, began with the presentation of participation awards. This year 40 students entered the fair.
Stark didn't pass up the chance to try to teach to her captive audience between the presentation of awards.
She used a balloon and needle to teach about diffusion. Students were challenged to push a long needle all the way through a balloon full of air without popping it.
Several balloons and loud pops later, after the balloons were destroyed, Stark made the presentation of the awards.
Stark explained that teams of three judges went through all the exhibits and then discussed what they thought the best projects were.
It took the judges right up until 7 p.m., when the awards ceremony was to begin, to decide the outcome and who had won the grand prize.
So who was the grand prize winner?
Sophomore Ashley Talbert took the top prize for her experiment on how temperature affects corrosion of brass screws. Talbert said she came up with the idea because her father is a construction worker and it's relevant to his line of work.
"It feels really amazing," the 15-year-old Talbert said of winning the award. "I just wanted to do it for fun."
For her efforts, Talbert received the grand prize trophy, which featured a grizzly on top.
Claiming other prizes were freshman Cindy Gudino, who took third place; sophomore Nancy Lopez, who took second place; and sophomore Jonathan Homrighausen, who took first place.
Stark said she had ordered medals for first, second and third place winners, but they were delayed by bad weather on the East Coast.
Twelve students also won honorable mention awards. They included Oscar Zamorano, Alejandra Michelle Carrasco, Anique Fernandez, B. Sterling Scott, Brenda Barrios, Elvira Chiprez, Jacob Rogers, Mayra Serna Ashleigh Emery, David Salmeron, Catalina Alvarez and Kandy Lemus.
With the completion of the high school science fair, students will now move on to compete at the Regional Science Fair March 9-11 at Columbia Center in Kennewick.
Stark said participants will make refinements to their projects and prepare a talk for judges. At the high school science fair, students only had to be prepared to answer questions.
With the increase in the amount of preparation comes the chance to win better awards. Stark said prize money can be in the hundreds of dollars. That money can come from winning high places or from special awards given out by sponsoring organizations.
Following the Regional Science Fair, students will have the chance to compete at the State Science Fair on March 31 and April 1. The National Science Fair follows in May. Nationals are in Indianapolis, Ind. this year.
Robin Bryson, who teaches science classes at Sunnyside High School, said the school's science fair is important because it helps students think about things they might not think about otherwise.
"I think it's really important," she said of the fair. "It helps them develop skills in science."
Bryson said a lot of time is spent on thinking about what experiment students want to do.
"They really have to know their stuff," she said.