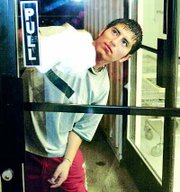 Joel Jimenez learned about work from his parents. They own a restaurant in his hometown of Huancayo, Peru.
There, Jimenez would help his parents out. He would wash the dishes, sometimes work in the kitchen and wait on customers. "Normal stuff," he said of the work he did at his parents' restaurant.
He brought that work ethic he learned there to the U.S. when he came to the states four years ago.
Money was tight at home so Jimenez came here with his uncle when he was 15 years old. "I came up here to work and send some money home to my parents," he explains.
The last four years he has been going to school here in Sunnyside and he has been working for the last three years too. His place of employment is the Valley Cleaners laundromat in Sunnyside.
Here, he uses his work ethic he learned in Peru. He basically just cleans up at the laundromat but he always has a smile on his face.
His job includes cleaning the washers and the dryers. The washers can get quite dirty, he says. Some people use liquid detergent and some use powder. The powder can get caked on the washing machines and this makes it hard to get off if not cleaned on a regular basis.
Along with cleaning the washers and dryers, Jimenez also sweeps and mops the floor. He takes care of the customer bathrooms, as well as cleaning the windows. Sometimes he has to show the customers how to operate the washers.
"For some people, they are new and it's hard for them to understand," he says.
On top of all this, Jimenez still has time to open a door for a customer or even help them carry in or out their laundry. Jimenez prides himself on his customer service.
Half of the money he makes he sends home to his family back in Peru. He would like to send more but rent and food keeps him from doing this.
Jimenez should have graduated from high school last year but he had trouble completing his senior project. "Last year my English wasn't too good," he said. This year he feels confident he will complete his senior project and then graduate.
After graduation, Jimenez hopes to go onto college. Where? He doesn't know yet but there will be a soccer team there for sure.
Soccer is his favorite pastime and he is hoping he might be able to win a scholarship to play somewhere. He's played on the Sunnyside High School soccer team for three of the past four seasons. He plans on playing this year too and will start training soon to be ready for Sunnyside High School's first match in early March.
Until then, he'll be a main fixture at Valley Cleaners on the weekend. Cleaning and helping out the customers.