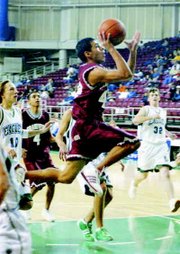 YAKIMA - The Grandview boys basketball team made it two in a row at the SunDome last week, with a 54-43 win this past Friday over Lakeside.
"They beat Zillah pretty well the night before, so we knew we were going to have our hands full," Coach Scott Parrish said of the Lakeside players, who hail from Nine Mile Falls, just outside Spokane.
Grandview grabbed a 13-10 first quarter lead and opened its advantage up to a nine-point spread mid-way through the second stanza.
The Eagles soared just before halftime, however, trimming the Greyhound advantage to five at the half, 26-21.
"We gave up quite a few second-chance points in the first half," Parrish said. "We did a better job of rebounding in the second half and held them to just one second-chance point."
Lakeside went to a zone defense in the third stanza in an attempt to get even closer. Grandview's Anthony Andrews responded with a pair of treys-on the way to a game-high 18 points-to shake up the Eagles' defensive strategy.
Grandview led just 39-32 entering the final quarter. That was close enough for Lakeside to still make it a game, but a big enough lead that the Eagles had to resort to fouling the Greyhounds late in the contest.
Grandview came through at the line to seal the win, but not enough to please their coach.
"We only hit 55 percent of our free throws," Parrish said of his team's 16-of-29 performance at the charity stripe. "We didn't do a good job of free throw shooting, but we made enough to get by."
Nate Zavala stepped up with 12 points, four rebounds and three steals to help the Greyhound cause. "Nate really sparked us at the beginning of the game," Parrish observed.
A.J. Valencia added 11 points and four steals.
All-everything guard James Vela overcame an 0-for-7 night shooting to pull down a team-high five rebounds and dish out five assists.
Grandview, 6-1, opens league play this Friday at Connell.
"We've had a nice break and the kids played real well at the Sun Dome," Parrish said of the outlook heading into league. "We're pretty optimistic, it's a new season. Now we just have to stay focused."
Parrish said he was especially pleased with his team's improvements in rebounding and in taking care of the basketball during the non-league season.
"We've improved in those two areas," he observed. "I'm happy that they've learned from their mistakes and making better decisions."