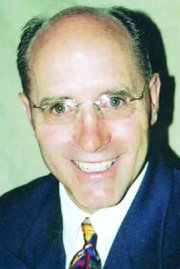 KENNEWICK - Taking a lesson from his 2004 run for the U.S. Senate, Sunnyside native and Benton County Sheriff's deputy Bradley Klippert (R) announced his candidacy for Maria Cantwell's Senate seat on Dec. 30, 2005, nearly 10 months before the Sept. 2006 primary.
"It was quite a learning experience," Klippert said of his seven-week campaign in 2004 against Sen. Patty Murray. "I had just come off (National Guard) active duty and there wasn't much time."
Despite the short campaign, Klippert said he came within one percent of the vote of advancing from the 2004 primary to the general election.
The year and the opponent may be different, but in 2006 Klippert will run on much of the same evangelical Christian platform of family values as he did in 2004.
"One of the main reasons I'm running is the Federal court decision that the Pledge of Allegiance 'under God' is in violation of the Constitution," said Klippert. "I believe in one nation under God."
Klippert touched on other values that are part of his platform for the U.S. Senate:
• Intelligent design or creation versus evolution.
"Our forefathers said that people are 'endowed by their creator with inalienable rights,'" said Klippert. "I just want us to be taught the same truths our forefathers fought for."
• Marriage. Saying he is opposed to both civil unions and marriage ceremonies for gay and lesbian couples, Klippert noted that he "believes strongly in the marriage of one man and one woman."
• The environment. "One of the many issues Maria Cantwell and I disagree on is the environment," Klippert observed.
"I love our wilderness, hunting and fishing," he added. "But at the same time, jobs for timber workers are more important than a spotted owl. We're spilling water over the dams to save fish, but it's costing us more for electricity."
• Klippert said he is a "very strong supporter of pro-life" on the abortion issue.
• On the war in Iraq, Klippert said he would stay the course, if elected.
"I've talked to multiple solders and every single one I've talked to said this is a good work we're doing over there," Klippert said. "I think we should stay as long as we're needed and as soon Iraq is independent and secure we should bring the troops home."
Klippert, 48, has a total of 12 years deputy experience between the Benton and Pierce County Sheriff's offices. He was in the Army Reserve for 12 years. For the past six years Klippert has been a National Guard Reserve pilot, rising to the rank of Major.
He was called to active duty on the east coast following the Sept. 11, 2001 terrorist attacks during Operation Noble Eagle. "I was there 13 months to help with the evacuation of casualties," Klippert said.
Klippert lives in Kennewick with wife, Kim, and their two daughters, Alexis, 11, and Aubrey, 8. "We're in the process of adopting a son right now," he added.
Located about three hours from both Seattle and Spokane, Klippert knows he has an uphill battle to get the word out statewide about his candidacy.
"I am establishing regional advisories to help provide wisdom in getting information out there," Klippert said. "One of the things we found in 2004 is that where ever information was received about my platform I got very strong support."
If Klippert advances to the general election, there's still the matter of facing a Senate incumbent.
"There are a large number of people that stand for the same ethics and morals I do," he said. "I'm a Christian man. The Bible says that all things are possible."
Noting that his campaign is not from a personal desire to run, but answering a call from God, Klippert compared his candidacy to another uphill battle found in the Bible.
"This is a David versus Goliath thing," Klippert said. "And remember that David won."