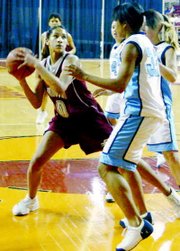 YAKIMA - The Grandview girls basketball team saw a close game get away in a 53-35 loss to Chewelah on Friday in the two-day SunDome tournament.
The Lady Greyhounds led 11-9 after one quarter and things remained close at the half, as Chewelah led just 20-19.
"Overall we were playing very well," Coach Adolfo Hinojosa said of his team's first half play. "On offense we were moving the ball and we rotated really well on defense."
Chewelah found a little breathing room in the third stanza with a 12-7 run, to go up 32-26 entering the final eight minutes.
Grandview was still within striking distance as the fourth quarter began, but Chewelah sealed the deal with a 21-9 run to close out the contest.
"We weren't getting back on our transition defense like we did in the previous three quarters," Hinojosa said of Grandview's fourth quarter woes. "They (Chewelah's players) were getting easy lay-ups."
Kinzi Poteet sparked Grandview with 14 points and seven rebounds. Christine Powell was also a force in the paint for the Lady Greyhounds, hauling down seven boards to go with six points.
Despite a pair of losses at the SunDome, and an overall record of 1-6, Hinojosa said the non-league season-the SunDome tourney in particular-was a positive motivation for the girls.
"We start league play this Saturday and we want to get back to the SunDome for state."
Speaking of league play, the Grandview girls travel to Connell this Saturday to open their CWAC South schedule.
"We call these the dog days," Hinojosa said of the Lady Greyhounds' league schedule. "We want to fight for a playoff spot."
However, Hinojosa added, there are a couple of things the girls need to work on to be in the playoff hunt.
"We need to make more of our free throws and decrease the number of turnovers," he observed. "If we could have improved on those two areas during non-league we'd probably be 4-2 instead of 1-6."