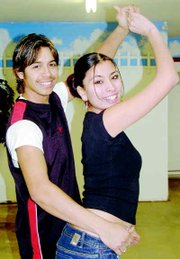 With hip-hop and salsa tunes providing the canvas, dancers artfully spun and leaped during a recent class offered at the 4 JAMZ Dance Studio in Sunnyside.
Operated by Carrie Stone, the studio at 1015 E. Lincoln Ave., next to Ramos Gifts and Scrubs, offers dance classes each Monday and Wednesday evening.
"There's nothing for our generation to do here," the 26-year-old Stone said of her decision to open a dance studio. "This is like a dream that's come true."
The store takes its name from the 4 JAMZ dance group which has performed at venues such as the SunDome and toured with EMI recording artist D.J. Kane.
Stone said 4 JAMZ began by practicing in her garage. The group still holds monthly auditions for prospective new members.
Two dancers from 4 JAMZ are among the dance teachers at 4 JAMZ Dance Studio, Jessica Heredia and Jose Santana.
Stone said the dance school takes its cue from students.
"If we have a lot of couples, then we can focus on teaching pairs dancing," she noted. "If there are a lot of singles we could work on circle dancing."
Stone said flexibility is the key to her dance studio. "The goal is to teach people three or four different types of dances in a period of six months."
Classes operate month-to-month and each session concludes with the class performing a dance recital to showcase what they've learned.
Dancing styles offered include break dancing, hip hop, salsa, tango, interpretive and folkloric.
Stone, who has 10 years experience as a dancer, is also fluent in both English and Spanish. She has helped interpret at some Sunnyside City Council meetings.
In addition to the dance classes, Stone said she will offer English and Spanish language classes at the East Lincoln location.
Like dance, the language courses will run on a month-to-month basis with various levels of training provided.
But front and center is the dance at 4 JAMZ Dance Studio.
"I'm putting all my energy into this," said Stone. "A dance studio is something I've thought about for a while. Then I thought, maybe it's time to make it a reality."