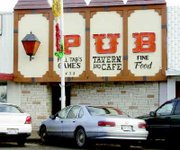 Washington's new smoking ban has claimed its first victim in Sunnyside. The Pub at 432 S. Sixth St., a fixture in downtown Sunnyside for the past 33 years, will officially close its doors today.
The decision to close was one that owner Harley Riel said he'd been thinking about for the past four or five months.
"The decision was finally prompted by the no smoking law," Riel said. "That was the final straw."
Riel, 65, has owned the Pub for the past 15 years. He said he got into the bar business after being laid off in another industry.
Now that Riel has made the decision to close, he doesn't know what he's going to do, but he said he knows he's not retiring yet.
Riel doesn't blame the state and the smoking ban entirely for the fact that he had to close his business.
Since he's owned the bar, he said the business has changed dramatically.
Increases in taxes on cigarettes, and increases in the price of beer have created dents in areas he once made a lot of money, he said.
The price of the products he serves, beer in this case, have increased 141 percent since he first purchased the Pub.
Despite the fact that many claimed businesses would see an influx of new customers due to the smoking ban, Riel said he hasn't seen any new customers.
"That hasn't been the case," he said. "Why would they drop everything and come to a new place when you eliminate smoking?"
That's something that's probably more true of restaurants, Riel said.
With the increase in the cost of his products, Riel said he needed to sell a lot just to break even. But with the downturn in the number of customers coming in, Riel said that hasn't happened, to say nothing about making a profit.
"It takes an influx of people to pay the bills," he said.
Jim Moser, a regular customer at the Pub, said he comes into the business about two or three times a week.
Moser said it's a good place to meet with people and talk with friends.
"I socialize with some of the guys who come in here," Moser said.
Moser grew up in Sunnyside, he said. Though he's quit drinking now, he said when he used to drink, he used to come into the tavern a lot.
Seeing the bar close brings up negative feelings, he said.
"It makes me angry," Moser said of the bar closing. "I'm angry at the state."
Moser attributed the bar's closing, in part, to the Sunnyside economy.
"It's economic," he said. "It's all economic."
Moser said he just doesn't think the downtown Sunnyside area can support businesses like the Pub, and that's a sad thing.
"It's not like it was when I was young," Moser said of downtown Sunnyside.
Moser, too, said he's seen an impact on the Pub since the smoking ban took effect on Dec. 8.
"I'd say business has dropped considerably," he said, noting that he's in the Pub a lot and has seen fewer and fewer people come in.
With the tavern closing, Moser said he'll likely not go anywhere to socialize in Sunnyside. Moser said he'll probably stay at home, but when he wants to go out and socialize, he may go to Legends Casino in Toppenish because there he'll be able to smoke while he has a meal.
Riel said because he's made the decision to close, he's decided to sell off things from the bar in order to try to recoup some of the money he's put into it.
Anything not attached to the building is fair game, he said.
If you want to buy any old items from the Pub can call 837-3907 or visit the tavern.