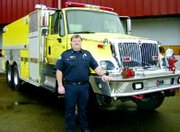 GRANGER - A spanking new fire truck arrived in Granger Dec. 22, designed by six Granger volunteer firefighters and purchased with a $250,000 grant received by the Granger Fire Department from the U.S. Department of Homeland Security in 2004.
"It's been a long time coming," said Granger Fire Chief Kenneth Shipman.
"We've been waiting for this for almost two years," he added.
The new fire truck has three-fold capabilities, according to Shipman. "It's a tender because it can carry 2,500 gallons of water, and it's a brush truck because it can run off the road, and it's also a Class A pumper," he said.
Shipman's committee of six did some brainstorming to get the features they felt Granger's all-volunteer fire department needs.
"Seventy percent of the truck's functions can be operated by one man in the cab, which is a plus since we're a volunteer force and sometimes only one or two firefighters are available when we're called out," said Shipman.
"The only thing one man can't do is enter a burning building alone, and that's because of fire department policies."
Shipman headed the team that laid out specific needs for the truck's design. He was assisted by Captain Ernie Guerra Sr., Firefighters Ken Robillard and Robert Bulpett, the department's Secretary-Treasurer Curtis Willey and Donna Shipman, training officer for the Granger department who is also the chief's wife.
They knew the new truck was going to replace a county-owned tender truck, and would be used not only by the Granger Fire Department but also by Yakima County Fire District 5, which shares firefighting duties with many of the small towns in the valley, such as Sunnyside.
With that in mind, the new truck's design accommodates three ground sweep nozzles, mounted on the front of the truck, for spraying water onto a brush fire. Each nozzle can release water at the rate of 30 gallons a minute, although probably only one or two nozzles would be in use at once since brush fires are fought while the truck is driving through already-burned areas with only one side facing the flames.
The front of the truck is also equipped with a remote-control deck gun which can fire 200 gallons a minute onto a blaze.
Another attachment on the front is constructed so three hoses of different sizes can be utilized during a fire, which saves firefighters from having to attach, detach and reattach hoses.
The three-hose attachment is in addition to a hose attachment at the side of the truck, which accommodates a larger hose.
A major improvement in the truck's design is the way in which it empties its load of water into dump tanks at the site of a fire.
"On our old truck we had to take time to hook up a hose and then pump the water out. It took 20 minutes to dump a load of water so the truck could go back and get more. This truck can dump 2,500 gallons of water in four minutes," said Shipman.
He proved his point by tapping lightly on a button that caused a drain pipe to emerge from the back of the truck and, with another light tap on a lever, a gush of water poured forth.
The truck has several of these telescoping pipes built into it to help it dump its load of water in a rush.
Having an unlimited supply of water on hand at fires is going to be a big plus for the Granger department, he said.
"Any time we get anything new, we have to qualify on it and have training on it," said Shipman, who already has his volunteers working with the truck.
"We are still equipping it," he noted.
The county truck the new one is replacing will no longer fill one of the Granger station's four bays. "It may not be retired; it may go to another station," said Shipman.
Granger's nre fire truck was built and delivered through U.S. Fire Equipment Company in Seattle, who sublet the contract to Fort Garry Industries in Canada.
"We would tell their engineers what we needed and they'd tell us if it could be done. We aren't engineers, but we do have a lot of firefighting experience and knew what we needed," said Shipman.
In the new truck, Shipman said he is sure they now have a state-of-the-art firefighting machine that has features not yet seen on other fire trucks.
In addition to the $250,000 received by Granger from the U.S. Department of Homeland Security in 2004 for the purchase of the truck, the city also received $49,081 Dec. 2, 2005 from the same source. That money will be used to purchase brush firefighting turnout gear for the department's 22 volunteer firefighters, most of whom also volunteer for Yakima County Fire District #5, with which Shipman is employed.