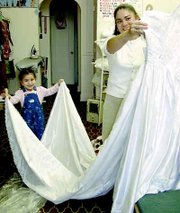 Margarita Torres, mother of six and grandmother to 13, stepped out of her safe zone and into the business world four years ago in Sunnyside.
Torres, who had supported herself doing field work and babysitting for 10 years after leaving Mexico and coming to Sunnyside, said she saw the way clear to "do something for myself".
The 'something' she chose to do involved returning to a skill she learned in Mexico after she graduated from high school. She spent five years studying at, and graduating from, a fashion design school in Acapulco in the state of Gerrero, where she learned to make her own patterns and design fashions.
In that tourist capital of Mexico, Torres put her knowledge of patterns and fashions into practice by opening a shop, which she operated for 24 years before moving to Sunnyside.
While doing field work and caring for children here, Torres always practiced her seamstress trade, but called it "a hobby" that she conducted in her home.
Four years ago, with her six children, three of whom she adopted when a friend could no longer keep them, grown and on their way out of the home, Torres decided it was time to take the plunge into fashion again.
She set up shop in Sunnyside's Mini-Mall, but recently moved into the heart of town at 504 Sixth Street next door to H&H Furniture. An unpretentious sign hangs over the door proclaiming this small den as "Margarita's Designs". Her shop is open Mondays through Saturdays from 9 to 5, although she does close from noon to 1 p.m. for lunch since she works alone.
In the past four years customers from as far away as Yakima, Goldendale and Prosser have discovered her ability to look at a high fashion garment and copy it in fabrics and colors of their own choosing. While customers provide the material, Torres provides the pattern she makes herself.
For one customer, she makes sleeveless, silk brocade dresses in a Chinese style for $20 each. For others she makes bridal gowns, ornate satin bridal cushions and even centerpieces of flower buds she fashions from scraps left over from other projects.
Torres makes everything from sheets and pillowcases to evening gowns. And in between she does alterations, replaces broken zippers in jackets and coats and hems dresses, skirts and trousers.
Although she speaks little English, Torres said the language barrier has not prevented her from gaining clientele who speak only English. In fact, she said, most of her clientele does not speak her mother tongue of Spanish.
Last year, before Sunnyside High School's prom, Torres was invited along with others to participate in a school fashion show. She designed a beaded, white wedding gown and several children's outfits for that fashion show, all made from patterns she created herself.
Although she took a risk four years ago, forsaking field work and child care that had brought in reliable incomes, she finds herself in a good position now.
"Four years ago, it was a hobby I did at home. Then I went full time and was dedicated just to this. Now it is a stable business," said Torres.
.