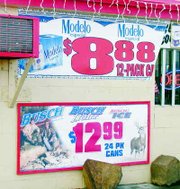 To Mike Nassar, owner of the 16th Street Market, it's all about fairness.
"If one store in Sunnyside has to take down their beer signs, then all stores should have to," he said outside the store at the corner of 16th Street and Lincoln Avenue he opened in December 2004.
The signs have to be removed due to a new Sunnyside sign ordinance the city council approved last month.
The ordinance contains a law banning all outside beer and alcohol advertisements within sight of a school or park. The same goes for alcohol ads within sight of a church, but only if a complaint is filed.
Council's philosophy behind the move was based on figures provided by City Manager Bob Stockwell showing that exposure to alcohol advertisements can make young people more prone to try alcohol.
The problem, as Nassar and other store owners see it, is that stores away from schools and parks can retain their signs.
"They're taking business from one store and giving it to another," said Nassar, whose store is across the street from Chief Kamiakin Elementary School.
"It's a bad idea," agreed Hyong Chong of the Lincoln Market, just across Lincoln Avenue from Nassar's store.
"It will hurt our business," noted Perla Morales, one of the owners of the East Edison Food and Deli, across from Sunnyside High School.
"They should give us some options," Morales added.
She said the store will comply with the law.
"It is the law, we have to obey," she said with a shrug of her shoulders.
Nassar, in particular, feels the law is just the latest in many city moves that unfairly target his store.
"When I first opened the store I had some signs on the corner," he recalled. "They asked me to take them down and I did."
In his store's first year, Nassar said he has been visited four times by officers working undercover.
"My store passed every time," he noted of the operations, which he said tested whether his store would sell alcohol or cigarettes to minors.
Nassar said he has already taken down some beer signs, but added that he would talk to the Liquor Control Board before considering any action or discussion with the city.
Nassar also pointed a finger at other businesses with outside beer ads. "Children have to ride school buses right by those signs. Shouldn't those have to come down, too?"
He also said it was unfair that stores like his were targeted, while children can see alcohol commercials on television or in local newspapers.
In all his frustrations, Nassar has another thing in common with those store owners impacted by the law.
None of them showed up at the city council meeting to express their displeasure when the sign ordinance was discussed, then later adopted.
"It's hard to make it to the meetings," Nassar admitted. "But, we should've been there."
.