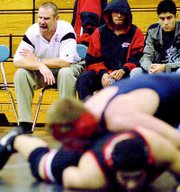 Dropping 10 of the 14 individual matches last night, the Sunnyside High School wrestling team sustained a 48-21 Mid-Valley League defeat to the visiting Ellensburg Bulldogs.
Tuesday's loss squared the league record of Sunnyside, the defending conference champs, at 1-1 on the season.
Ellensburg won the five opening bouts, forging a 28-0 lead in the process. The Grizzlies could never recover, as they won only five of the remaining nine matches.
The Bulldogs' five opening wins came in the upper weights (160, 171, 189, 215, 275). Four of the victories were via pin, each worth six team points.
Sunnyside's first victory on the night was claimed by Isaac Romero, at 103 lbs. Romero scored two near falls against Tait Tucker enroute to posting a 15-2 major decision.
Ricardo Rivera made it two wins in a row for Sunnyside, pulling the Grizzlies to within 28-10, when he pinned Zach Heaton a minute and a half into the second round of the 112-lb. bout. The victory was especially sweet for Rivera, considering Heaton was the fourth place finisher at last season's 1A State tournament, when he wrestled for Zillah.
Following a 7-2 loss Sunnyside's Victor Reyes suffered to Tyler Carter at 119 lbs., the Grizzlies got a pin from Steve Sanchez in the 125-lb. match. Sanchez, who won the 3A State title at 119 lbs., earned six team points with the fall against Ryne Clark, but was docked a point by the referee because his shoe laces weren't tied.
Ellensburg followed with a pair of wins at 130 and 135 lbs. to up its lead to 40-15. Sunnyside's Zeke Galvan then recorded the last win of the night for the Grizzlies when he pinned Ellensburg 140-pounder Keane Simpson 23 seconds into the second period. Galvan had forged a 10-1 lead on Simpson before scoring the fall.
The Bulldogs closed out the night with wins at 145 and 152 lbs.
Sunnyside returns to Mid-Valley League action this coming Thursday at Hanford. The match will be held at Chief Joseph Middle School because Hanford High School is currently undergoing construction upgrades.
.