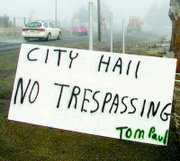 An ongoing battle between the city of Sunnyside and Prosser contractor Tom Paul hit the mother of all loggerheads today, Thursday.
A city work crew had removed one of Paul's signs and a series of poles Paul had erected along South First Street Thursday morning.
"We're pullin' poles out, the city says they need to be removed," said a Sunnyside employee.
In addition to a city work crew, a bull dozer and assistant engineer Shane Fisher, there were also two patrol cars to help direct traffic around the scene.
"City Hall, you do not own this land," read the sign taken down by the city.
"I'd say that's censorship," Paul said in response.
Public Works Director Jim Bridges said the sign was taken down because it encroached on the public right of way.
"The sign was actually protruding onto the shoulder of the road," he explained. "We removed is as we would any sign on the right of way."
And right of way is at the crux of the issue.
On Nov. 28 a divided city council voted 4-3 to revoke a conditional use permit for Paul's political billboard on his South First Street property.
At that meeting, City Attorney Mark Kunkler advised revoking the permit because he said Paul violated a settlement agreement. Kunkler explained that Paul placed the billboard 14-and-a-half feet from his property line, rather than the minimum 20 feet mandated in the permit.
Kunkler based that on a survey commissioned by Paul in 1978, showing a 30-foot city right-of-way, rather than 20 feet.
That led to the city issuing a second stop work order in early December, said Bridges.
"Paul placed those posts and various signs within city right of way," Bridges noted.
He said the notice gave Paul 10 days to comply. "How long do you wait after you give someone a notice before you take action?" Bridges asked. "It's probably been a month since he received notice."
Bridges said the city had all its papers in order to proceed with the sign and pole removal. The city notified Paul and his attorney, J.J. Sandlin, on Wednesday night that the action would take place this morning.
"We will clean up the area with a loader on site," Bridges pledged. "Any tracks, ruts or holes from removing the poles will be taken care of."
But the battle isn't over, say Paul and Sandlin.
While city crews plucked his poles one-by-one out of the ground, Paul said his attorney was seeking an injunction to stop the action.
"Going by my understanding of city surveyor's survey marks they are wrong," Paul countered. "My surveyor says I own to center of the road less 15 feet right of way. Even if city had a right of way, they only have right to area they drive on."
In a note to city hall, according to correspondance provided by Paul, Sandlin wrote, "...the unreasonable position taken by your city staff has now caused me to change my plans and focus on this ridiculous conduct of the City of Sunnyside, and prepare the very serious lawsuits that undoubtedly must be brought to alleviate the harassment visited upon my client, Mr. Tom Paul."
As the property line dispute makes its way through the courts, Paul already has plans to undo the city's work this morning.
"I'm putting back up whatever the city takes down. I've had signs in the area they claim for more than 20 years."
.