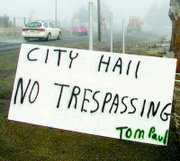 During their meeting on Wednesday, Jan. 4, Port of Sunnyside commissioners reviewed changes to a draft interlocal agreement for a Black Rock study area.
The draft agreement, which involves the Yakima Basin Storage Alliance, Yakima County, Benton County and the Port, centers around identifying the economic development potential associated with the construction of the Black Rock Reservoir.
The change in the unofficial, draft document involved re-phrasing the financial commitment by each participant.
Rather than saying each of the parties will deposit $25,000 into an operating account for preparation of a report on Black Rock's economic potential, the draft's new language stipulates the parties "will provide in-kind services and/or financial assistance."
"The Port's role is general support of the economic development of the surrounding area in Yakima County within the Port district," Commissioner Arnold Martin has said. "We want to make sure the public has access to the facility," he added of the reservoir proposed for Black Rock.
Among possible side benefits, besides the chief purpose of water storage, is water recreation. The Port hopes that, in turn, will lead to an economic bonus for the area.
"Water is going to be an important factor for our economic development," Martin said of hopes for Black Rock. "And we value the potential recreation. We want to stay involved in that."
.