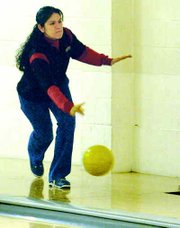 MOSES LAKE - With four JV bowlers subbing in for the Sunnyside varsity, the Moses Lake High School girls bowling team scored a 4-0 victory this past Wednesday afternoon.
The Jan. 4 match-up was to have occurred in December, but was postponed because of inclement weather.
Despite having to use four of her JV players because of injuries or illness to her varsity bowlers, Sunnyside Coach Tina Peabody said her second string met the challenge.
"They did a nice job stepping up against a tough Moses Lake team," Peabody said.
Tough might not be as strong of an adjective needed in describing the Chiefs, considering none of the five Moses Lake starters averaged below a 164 yesterday. Moses Lake's top gun proved to be Michelle Reynolds, who fired a pair of 175 and 190 games.
With Dawne Drummond and Virginia Valdez adding scores of 205 and 203, respectively, in the opening contest, the Chiefs rolled to an impressive 918-660 victory.
Moses Lake bested the Lady Grizzlies in the second game, 800-659. Reynolds' 190 was tops for the Chief that game, although Danielle Hoffstedder and Emily Ozolins added nice efforts of 172 and 167, respectively.
In the two Baker games, where each member of the five-girl squads alternate taking turns throughout the 10 frames, Moses Lake came out on top, 170-101 and 156-147.
The lone Lady Grizzly to top the two-game 300-plateau was regular starter Veronica Uribe. She opened with a 170 and dropped off to a 131 in the second contest.
The Sunnyside JV players who filled the varsity spots at Moses Lake included Maribel Rodriguez (119-149), Alma Romero (127-127), Veronica Alvarez (103-148) and Kayla Coder (141-104.