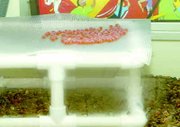 Students in Mrs. Long's fourth-grade class at Sunnyside Christian Elementary School took possession of 130 Chinook salmon eggs Thursday morning.
"The tanks, equipment and supplies were provided by the conservation district," Dave De Boer, an irrigated ag specialist for the South Yakima Conservation District, said.
Bob Tuck, the director for the Yakima Basin Environmental Education Program, dropped the eggs off to the excited students.
The students had the tank set up and the water at a perfect 50 degrees.
"I wanted to give the kids a new experience and a chance to learn something different," Trudy Long said.
Every week her class has two new weekly helpers and looking after the fish will be added to their responsibilities.
"They will be testing the water for nitrate levels and maintaining the proper ph levels," Long said. "They will also monitor the growth of the salmon."
Depending on the water temperature, the eggs should hatch in two to three weeks. Once they hatch, the young salmon are called alevin. Alevins still have their yoke sac attached to their bodies and they will feed off of this until it is gone. They will then have matured into fry.
The young frys must be fed and sometime in May, Long will pack up her fourth-grade class and take the young salmon to the Yakima River at Horn Rapids to be released into the wild.
"Some will be tagged so we can track their progress," De Boer said. "Only two or three out of 100 will make it back from the ocean."
"What a wonderful thing to see, God's creation, growing," Long said. "Because we're a Christian school, we will be focusing on God's creation of fish. The kids are very excited about this."
One of Long's students, Drew Scheenstra, is looking forward to the experience.
"I think it will be nice to see them grow and I'll get to learn about salmon," he said.
"They're pretty cool," added Jordan Floyd. "I want to see them hatch and move around."
Long is hoping the experience will teach the kids more than just about fish.
"It will all point us back to God and how great he is," she said.
.