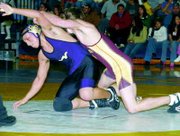 MABTON - Forced to concede 18 points to Cle Elum due to forfeits, the Mabton Vikings lost to the Warriors 48-30 Thursday night.
"We wrestled them even if you take away the forfeits," Mabton Coach John Kilian said.
Mabton's wrestler for the 130-lb. class didn't make weight and Mabton doesn't have wrestlers for the 140 and 275 lb. classes.
"It was a good night overall," Kilian said. "We have a young team with three freshmen on our varsity squad."
In one of the quickest matches of the night, Mabton's Eric Meza pinned Cle Elum's Brandon Martin in 32 seconds for a win in the 103-lb. contest.
"That's pretty fast," Kilian said.
Wrestling at 112 lbs., Luis Aviles beat the Warriors' Brandon Martin 14-8.
After that, Mabton lost the next four matches, three by pins and one on points.
It wasn't until Vicente Tovar pinned Cody Childs in the 152-lb. bout that Mabton got back on the scoreboard.
Mabton's Cesar Macedo followed that up by beating Drew McCoy in points, 8-1, in the 160-lb. class.
Mabton's last two wrestlers of the night, Eli Perez wrestling at 189 lbs. and Robert Marquez at 215 lbs., both pinned their opponents.
"Eli Perez is really coming on this year," Kilian said. "He had a nice throw in his match that we've been working on. Robert Marquez continues his domination. He's only lost twice this year."
Mabton's Damien Marquez picked up a win for the JV. He pinned Cle Elum's David Allen.
Mabton (0-2) will travel to White Swan Jan. 12 for its next match.
.