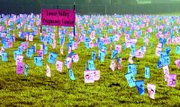 GRANDVIEW - "What are all those flags for," civil engineer Steve Martin was asked this past weekend as he hauled thousands of pink and blue survey markers in his truck.
All the flags, 4,000 in total, and the fuss centered on the Lower Valley Pregnancy Center's fourth annual flag planting this past Saturday to commemorate the sanctity of human life.
The flags, planted at Blessed Sacrament Catholic Church along Fifth Street in Grandview, represent 4,000 babies who die in the U.S. each day from abortion, said pregnancy center director Jan McDonald.
She said the flag planting was in conjunction with Sanctity of Human Life Day on Sunday, Jan. 22.
"It celebrates life in all its forms," McDonald said of the day, which was first set aside in 2002 by President Bush. "But we hope by having these flags up all month it will give a visual of the impact of abortion."
An estimated 30 volunteers show up each year for the flag planting.
"The most common remark we get from people when they pass by is what a real eye opener it is on the number of abortions there are," McDonald said.
Citing figures provided by Focus on the Family, she said at the current rate of abortion an estimated 43 percent of American women will have at least one abortion by the age of 45.
"There are women from all walks of life, even in the pews, who have had abortions, but no one talks about it," McDonald said. She noted the flags also relay a message of God's forgiveness and redemption.
"Maybe they will change one woman's mind to keep the life of her baby," she said of the flags.