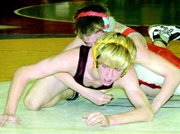 GRANDVIEW - The Grandview wrestling team put nine wrestlers into the finals at the Grandview Winter Classic this past Saturday en route to a team victory, the host school's first in the nine-year history of the event.
"We've never had nine guys in the finals in any tournament before," said Grandview Coach Jeff Sevigny.
The one sore spot for the Grandview grapplers getting so many wrestlers in the finals was that at 130 lbs. Grandview's Fernando Godinez and Kaelen Nelson had to face each other for the individual title.
Godinez came away with the title, but Sevigny said he was happy to have an all-Grandview final at that weight.
At 135 lbs. Max Saldana wasn't able to overcome Colby Melburn of Quincy in the finals, who recorded the 8-4 decision.
At the next weight class up, 140 lbs., Grandview's Shay Seimears wasn't able to defeat Henry Foss' John Shrader, as Seimears lost the match in a 7-4 decision.
Michael Benavidez continued the trend of Grandview wrestlers making the finals in consecutive weight classes. Benavidez lost a 12-4 decision to Henry Foss' Corey Brown in the 145-lb. weight class.
At 160 lbs. Grandview's Jacob Robillard blanked Prosser's Tyler Leighty 6-0 for the individual championship.
Tovias Magana, at 171 lbs., recorded the lone pin for the 'Hounds in the finals as he beat Henry Foss' Matt Evens in 4:32.
Rigo Rodriguez continued his good season. The senior got an 11-4 decision over Anthony Haskins of Henry Foss in the 189-lb. finals to claim the individual title.
Hele Lopez had the closest match of the day in the finals at 215 lbs. Lopez, still recovering from illness, lost a 3-1 decision.
Sevigny said Lopez very well could have won the match, but gave up a takedown going for one of his own.
Other placers for the Greyhounds included Santo Guillen, who placed 4th at 103 lbs., Dalton Walker, who took 3rd at 119 lbs., Francisco Valencia, who took 3rd at 130 lbs., James Whitney, who took 4th at 145 lbs. and Freddie Magana, who took 4th at 275 lbs.
Overall, Sevigny said he was very pleased with his team's performance, but he stressed to his team after the first-place finish that they need to look forward to trying to win postseason tournaments, not just regular season ones.
"That's what the whole season is for," Sevigny said. "To get ready for the postseason."
The Grandview wrestling team returns to league action this Tuesday when they host East Valley. They then travel to Benton City to take on Ki-Be Thursday night.