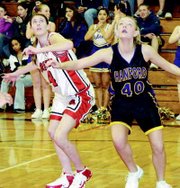 The Sunnyside girls basketball team got a split this past weekend beating Selah on Friday 58-50 and losing to Hanford 59-54 on Saturday.
Against the Vikings, Sunnyside's Talia Spini and Vanessa Torbay each had a dozen points to lead their team in scoring. Senior Fatima Ruelas added 10 points to her team's cause.
Coach Leo Gomez gave Selah credit and said the Vikings are very similar to his team.
"They're like us," Gomez said. "In the middle of the pack somewhere."
The Grizzlies took a 26-20 lead and never looked back in the second half.
A 22-point third quarter sealed the deal for the Grizzlies as they needed only a 10-point fourth quarter to close out the game.
Gomez said his team hit some free throws down the stretch that put the game out of reach for Selah.
His team made 6-of-11 free throws to ice the game, he said.
"It was nice to come away with a win," he said.
The Grizzlies weren't as fortunate against Hanford this past Saturday night.
Against Hanford, Spini again had a big game. She scored 21 points, a team-high. Spini also collected a team-high 10 rebounds.
"She did a good job for is," Gomez said. "She did about everything she could underneath for us."
Spini was also one-for-one from behind the three-point arc, Gomez said.
Reulas also played well, dropping in 16 of her team's points.
But the difference in the game was free throw shooting down the stretch by Hanford, Gomez said.
In the fourth quarter, Hanford clung to a four-point lead before sealing the game from the charity stripe.
Hanford converted on 13 of 14 free throw attempts to take the five-point victory home.
"It turned out being a lot closer than they thought it would be," Gomez said of the Hanford players. "I think we surprised them."
The Lady Grizzlies (1-3, 4-6) host Prosser Tuesday night in a Mid-Valley League clash before traveling to Wapato on Friday for another league match-up.